If you want the video you're about to make to go viral, then you should try Snapchat's Spotlight. It's an option for users to help promote short viral videos in the app's community. Keep in mind that the Spotlight video does not have comments, and your display name will not be shown to anyone unless they are over 18 or have a public profile.
The good news is that you can still keep your Snapchat account private, hidden from the public, but still send content to Spotlight so it can go viral and you can earn some cash. If you make some money with your video, Snapchat will let you know and send you a link with third-party payment providers.
How to Use Snapchat Spotlight
To use the spotlight feature, open Snapchat and create a snap using one of the many fun filters. Once you've created your video, tap on the Sent to button at the bottom right.
The Spotlight option is going to be at the top of the page.
Choose the Spotlight option, and you might need to accept the Spotlight terms.
Don't forget to set your topic by tapping on the #AddTopic option. Once you're Done with that, tap on the Send button.
You can also upload a video from your computer by:
Going to my.snapchat.com
Log in
Drag your video to the upload area or click on Choose video
Choose Post to Spotlight
Remember, to give your submission the best possibilities to make it to the Spotlight, make sure you're not violating any of Snapchat's terms and conditions. Also, make sure that you meet the age requirements and that your submissions are only videos; images and text-only will not be accepted. Other things to keep in mind include:
Videos must be in vertical
Have a maximum length of 60 seconds
Have a hashtag topic
Must be one of your best work by adding GIFs, sounds, lenses, etc.
Content must be original and not copied
How to Check on Your Snapchat Submissions
If you're at Snapchat's main page, tap on your profile picture at the top left of your screen. Go to Spotlight and Snap Map, and that's where you should see a list of all your Spotlight snaps.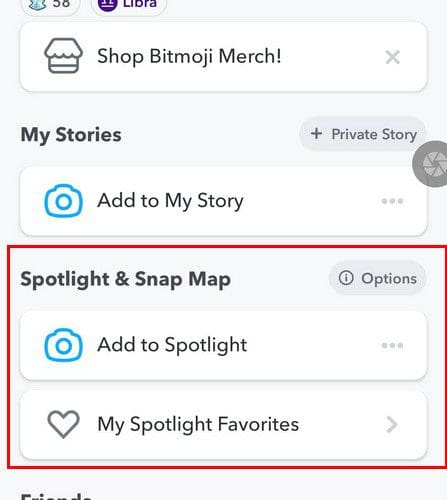 There, you'll see the status of what you submitted, and if all is good and it's been accepted, you'll see that it's gone Live. Keep in mind that not everything you submit will appear on the Spotlight page. Your submission will be reviewed, and then maybe it'll make it to the spotlight page.
How to Erase or Save a Snapchat Spotlight Snap
Regardless if you want to keep or erase a snap you made, you'll need to go to your profile picture at the top left again. You'll need to go to Spotlight and Snap Map you see your snaps. Long-press on the snap you want to keep or erase, and when the additional options appear, choose from:
Conclusion
Snapchat is giving its users a real chance to win some cash. But, if you see a Spotlight that's inappropriate, you can report it by long-pressing on the Spotlight post and choosing the option that says Report Snap. You'll also need to explain what the problem is. Do you think you'll be using the Spotlight feature frequently? Share your thoughts in the comments below, and don't forget to share the article with others on social media.