You hear the word Dongle a lot, but you're not quite sure what it is. You may have used it already but didn't know that's what it's called. There are a lot of tech terms out there, and Dongle is one of them.
Keep reading to see what it is and how important it is to do everyday tasks. You'll also see that there are different types of dongles to choose from. You may even realize you've been using one this whole time.
What Is a Dongle?
A Dongle is that small device you insert into your computer's USB port. It's a small piece of computer hardware that gives your computer or other device functionality. For example, let's say you bought a Bluetooth mouse. That small accessory or device that came with it is the Dongle. This is only one of the other things you can use a Dongle for.
What Types of Dongles Are There?
A Dongle can also be used to access the Internet. That type of Dongle is called a USB WiFi Adapter. If your computer can connect to the Internet, then the Dongle will do what is left to make that connection happen. It already has the technology you'll need for an Internet connection.
You can also use it to run software on your computer, for Internet access, or to transfer data. A Dongle can also be used as a security key. For example, a software you buy may require you to use a dongle for the software to run. If the wrong one is detected, you won't be able to use the software. What the software does is that it sends an encrypted request to get a validation key that will be encrypted.
You'll also come across a Wireless Sync Dongle. You'll see this type of Dongle often in fitness devices, so the data can be transferred to your computer. If you're using a USB Dongle, then you can save data on it and transfer it from one device to another.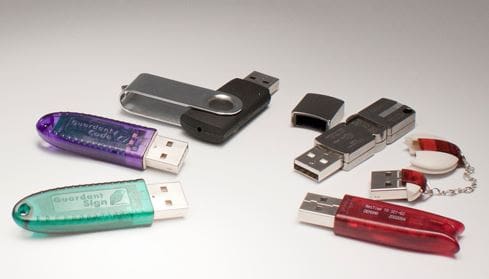 A Dongle can fit into your pocket, but you can easily lose them. That's one problem you'll come across when you use them. If you're also wondering where the name came from, you're not the only one since the exact origin is unknown. Some theories include that the name came from the device hanging from your computer. What is your guess as to the why of the name?
Conclusion
Dongles are very popular for various reasons. They can give your computer technology that didn't come with it, such as Bluetooth. You can easily carry them in your pocket since they take up very little space. Do be careful not to lose them since they can easily happen since they are so small. How useful do you find the Dongles? Share your thoughts in the comments below, and don't forget to share the article with others on social media.