Many users complained about getting a strange error on Facebook that says the "User opted out of platform". This problem usually occurs when you launch a game or try to share something with your friends. It indicates that your current settings are blocking other platforms from interacting with your Facebook account. If you're looking for a solution to get rid of this error, follow the troubleshooting steps listed in this guide.
What to Do if Facebook Says the User Opted Out of the Platform
Let Apps Access Your Account
Launch Facebook, click on the drop-down menu, and select Settings.
Then, go to Apps and websites, and go to Apps, websites and games.
Then hit the Edit option and tick Enable Platform to allow third-party apps to interact with your FB account.
Save the settings, and check the results.
Allow Facebook Cookies
Make sure your browser doesn't block Facebook cookies. If you tweaked your privacy settings to prevent Facebook from tracking your online activity, you may want to review your settings.
More specifically, if you use a Chromium-based browser, go to Settings and select Privacy and Security. Then go to Cookies and other site data, and make sure third-party cookies are allowed.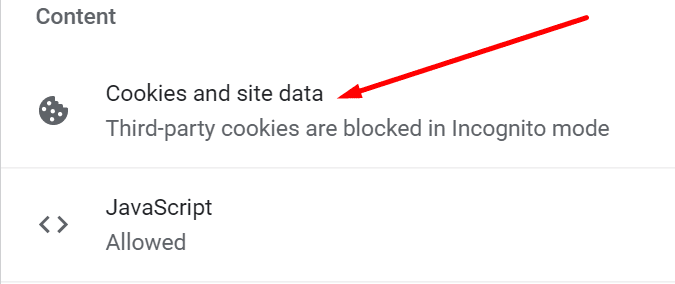 Then scroll down to Sites that can always use cookies, and hit the Add button. Add Facebook to the list of websites allowed to use cookies.
Clear the Cache and Disable Your Extensions
If the problem persists, clear your browser cache and disable your extensions. Launch your browser, click on More options, go to History, and hit Clear browser data. Clear your cache from the last four weeks.
Then click again on More options and go to Extensions. Toggle off all your extensions, restart your browser and check the results.
Conclusion
If Facebook says the user opted out of the platform, this indicates your settings are preventing other platforms from interacting with your account. To solve the problem, go to "Settings", select "Apps, websites and games", and let third-party apps interact with your account. Additionally, make sure your browser allows third-party cookies. Hit the comments below and let us know if this guide helped you fix the problem.