When you plug your power adapter into your Chromebook, a "Low-power charger" notification may sometimes pop up on the screen. This alert indicates your Chromebook's battery cannot draw enough power to charge appropriately while in use. As a result, your laptop may need more time than usual to fully charge.
Why Does My Chromebook Say I Plugged in a "Low-Power Charger"?
The "Low-power charger" alert may indicate you're using the wrong power adapter to charge your ChromeOS laptop. Always use the original charger that came with your Chromebook. Third-party chargers may not put out enough power to meet your Chromebook's needs. As a result, your laptop's battery may not charge while in use.
If you're using an old charger, the alert may also indicate your power adapter is no longer working as well as it used to. Either way, the warning suggests your Chromebook can't draw enough power to charge its battery and operate properly, both at the same time.
Will a Low-Power Charger Work on Chromebook?
While a low-power charger may work on your Chromebook, it will take longer to charge your device, even if you shut it down. If the battery is dead, it could take days to fully charge your device.
What to Do If You're Getting "Low-Power Charger" Alerts on ChromeOS
Get a New Charger
If you're using a third-party charger, get an original power adapter compatible with your Chromebook model. If you suspect your current charger is faulty is a good idea. Chromebook chargers usually last for a few years. However, intense usage in inappropriate conditions will shorten their lifespan.
Additionally, check your Chromebook's charging port. Remove any dirt or specks of dust, plug the power adapter back into the port and check if you notice any improvements.
Perform a Hardware Reset
Try performing a hard reset and check if the alert disappears. As a quick reminder, a hard reset helps you reinitialize the power flow to the embedded controller (EC). The EC controls all the hardware components of your Chromebook, including the battery, keyboard, and other onboard peripherals.
Steps to reset your Chromebook hardware:
Turn off your laptop.
Then, press and hold the Refresh key and press the Power button.
Wait until your Chromebook starts up, and then release the Refresh key.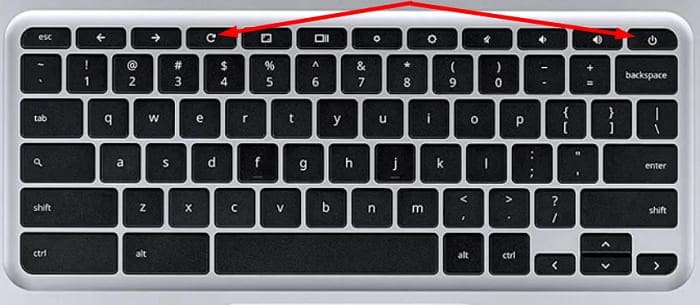 Depending on your Chromebook model, you may need to press a special reset button or remove the battery for a couple of minutes to reset the hardware. For more information, go to Google's Support page.
Conclusion
If your Chromebook says you plugged in a low-power charger, this means your laptop is not getting enough power to charge the battery while in use. Be sure to use the original charger that came with your Chromebook. Get a new charger if you suspect the one you're using is faulty. Additionally, perform a hardware reset and remove the battery for a couple of minutes.
Did you manage to solve the problem? Hit the comments below and let us know which method worked for you.