I have raved on this site so many times about Google Docs, I am going to assume you are already using this amazing suite of tools. I am writing this blog post in a Doc right now in order to grab screenshots to show you how to add symbols into your creation.
Have you gotten lost needing to add a copyright symbol, or even a little circle to show how many degrees it is outside? There are actually a multitude of different little things you can add into your Google Doc with just a few mouse clicks.
How to Add a Symbol to a Google Doc
With your Doc open, click "Insert" at the top of the page, and choose "Special Characters."
As you can see, there are many different things you can now add to your document by placing the cursor where you wish your symbol to go and then clicking the corresponding photo of the symbol in this new open window.
If you do not see what you are looking for in the default list, click the drop-down arrow next to the "Symbol" box, and look through the different menus there.
Likewise, you can instead click the drop-down arrow next to the "Arrows" box and check out the hundreds of different options found in each of those menus.
If you cannot find what you are looking for (since there are so many different options,) you have two things you can do. From the main "Special Characters" box, you can type in the proper name of the symbol if you know it.
Alternatively, you can use your finger (on a touch-screen device) or mouse to draw the symbol you need.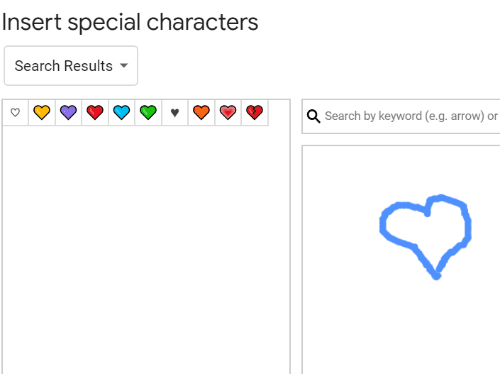 Once the list of matching symbols populates to the left, just click on the one you would like to insert and voila! It is in your document!
That is all there is to it! What other Google Doc shortcuts and questions can I help you with?
Happy creating!