Whatever your project is, you'll want to make sure that everyone who needs it has access to it. If you've just got a small team, it's easy to keep track of everyone. With bigger groups and workspaces, however, come more and more people to keep track of.
Since you don't want to accidentally exclude anyone, you may find it useful to check in on the workspace invitations you've already sent. This way, you know who already has their invitation. You will also know who still needs one and who has accepted theirs. Here's how to review the list of people invited to your workspace that have not yet accepted the invitations.
How to Review Your Workspace's Pending Invitations
To review the pending invitations to your workspace, you need to browse the invitation settings. Unfortunately, there's no direct way to get there from the main Slack application. You'll instead need to go through the member management settings.
To get there, you first need to click on the workspace name in the top-right corner. Next, in the dropdown menu, select "Settings & administration," then "Manage members" to open the Member management page in a new tab.
Once you're on the member management page, click on the burger menu icon in the top-left corner, then select "Invitations" from the list.
On the invitations page, stay on the default "Pending" tab. Here you can review all currently sent but not yet accepted invitations to join your workspace. You can see the email addresses they sent, who sent the invite, and the date the invitation was sent. You also have the option to resend or revoke the invitation.
The resend invitation option could be helpful if the recipient accidentally deleted the original invitation. The revoke option allows you to change your mind about inviting someone to join. Revoking an invitation will also stop the user from receiving any more email notifications.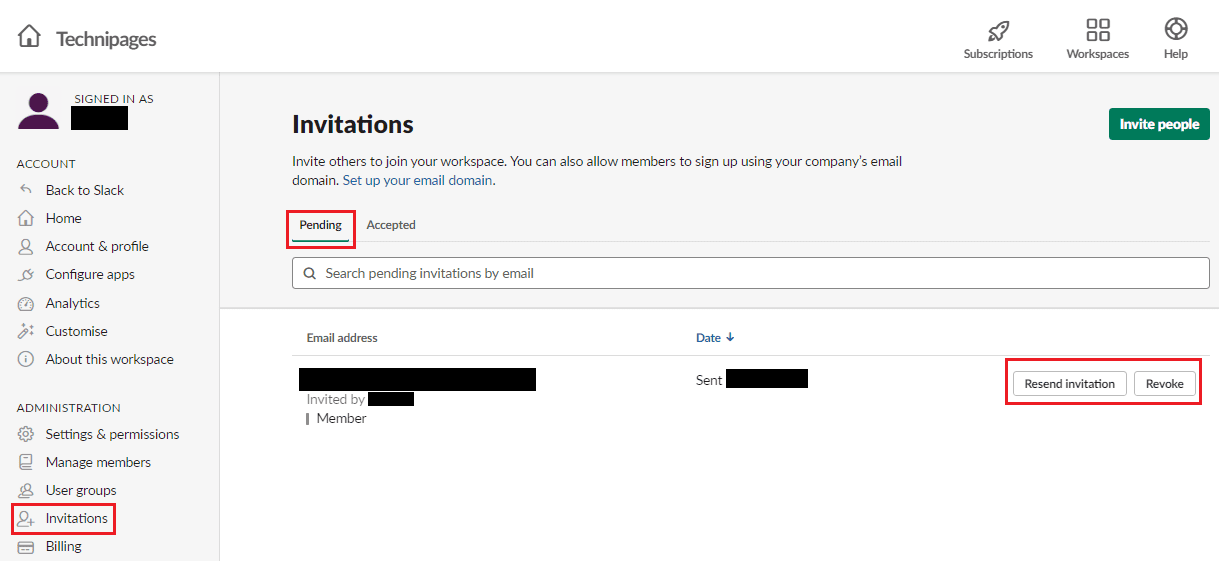 Reviewing the list of invitations to your workspace that have not yet been accepted allows you to resend or revoke the invitation if necessary. By following the steps in this guide, you can review the pending invitations to your workspace.