If your Slack workspace has a lot of channels that you're a part of, it can get difficult to keep track of each one. One of the ways you can try to reduce clutter in the sidebar is to leave channels that aren't important to your work. Another thing you can do is configure your preferences so that only channels with unread messages appear in the sidebar. This option minimizes the number of channels visible in the sidebar at any one time. This makes it easier to see which channels have unread messages.
How to Only See Channels with Unread Messages on Slack
You can configure any combination of these channel groups to appear in the sidebar by configuring your preferences. To do so, click on your profile picture in the top-right corner. Then click on "Preferences".
Once in preferences, switch to the "Sidebar" tab and scroll to the bottom of the page. To only display channels with unread messages in the sidebar, select the "Unread conversations only" radio button in the "Show" section. Alternatively, if you've started a few channels and still want to be able to see those too. Select the "Unread conversations, plus your Starred section".
Tip: Starring a channel marks it as a favorite and moves it into the separate "Starred" sidebar category listed directly above the main channel listing.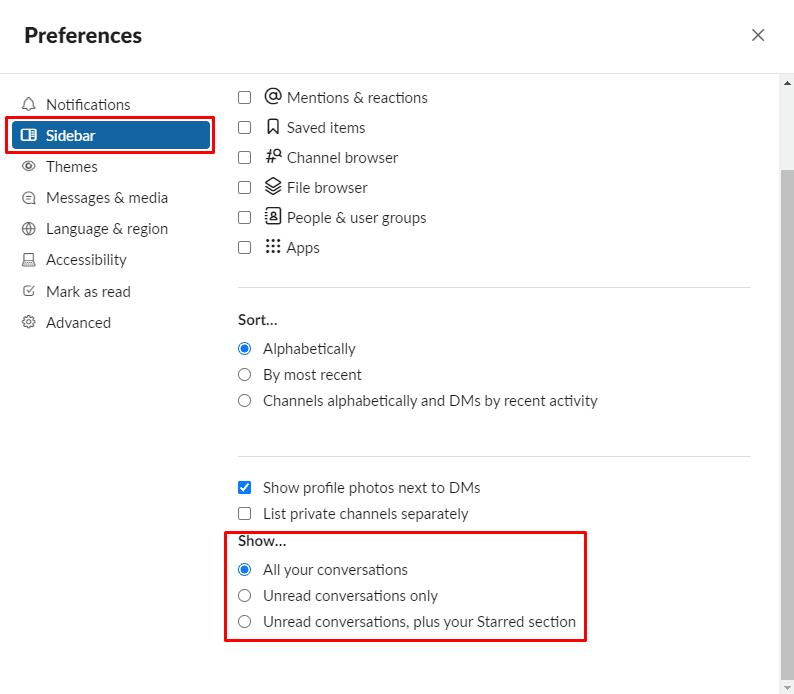 In the "Sidebar" preferences tab you can also choose to hide the profile pictures shown next to your direct messages, by unticking the checkbox labeled "Show profile photos next to DMs". You can sort private channels separately by ticking the "List private channels separately" checkbox. In the "Sort" section you can keep the default alphabetical sorting of the channel list, sort channels by "most recent" activity. Or sort channels alphabetically and direct messages by recent activity.
Do you prefer having your Slack channel showing only unread conversations or do you like having it all visible all the time? Let us know which is more convenient and why in the comments!