There are plenty of antivirus solutions you can choose from. If you're not happy with your current antivirus' performance, you can simply uninstall it and switch to a different security solution. But some stubborn antivirus tools may occasionally put up a fight. In other words, hitting the Uninstall button is not enough to remove the program, and you may need to perform a series of additional steps to get the job done.
How Do I Permanently Uninstall Kaspersky from Windows 10?
Uninstall the Antivirus from Control Panel
Go to Control Panel, click on Programs and select Programs and Features. Select Kaspersky Antivirus and hit the Uninstall button. Follow the on-screen instructions to complete the process.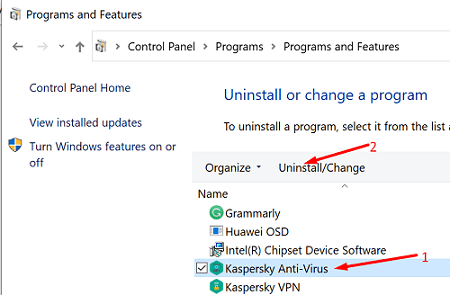 Use the Registry Editor
Type Regedit in the Windows Search bar and press the Enter key.
Then go to HKEY_CURRENT_USER\Software\KasperskyLab.
Delete the Kaspersky Software folder and close the Registry Editor.
Delete the AppData Folder
Remove the installation folder that Kaspersky created on your computer when you downloaded the tool. Go to the location where you installed the antivirus and delete the installation folder.
After following these three steps, you can restart your computer and check if you successfully uninstalled the antivirus. Should there be any software leftovers left, go to the next step.
Use Kavremover
Kavremover is a handy tool that automatically uninstalls stubborn Kaspersky Lab programs. It will simply wipe out all the Kaspersky antivirus files from your system. This includes license information and application settings. Write down your license key and export your application settings in case you need them again.
The company doesn't recommend running Kavremover unless told so by the support engineers. But if you already tried everything, and nothing worked, you can give Kavremover a go.
Conclusion
To sum up, if Kaspersky Antivirus won't uninstall, remove the program from the Control Panel and delete the KasperskyLab folder from the Registry Editor. If the issue persists, install Kavremover (Kaspersky's very own software uninstaller). Hit the comments below and let us know if you managed to delete Kaspersky Antivirus from your computer.