Slack is a chatroom type app designed primarily for use by businesses. The concept of having a single overarching server simplifies managing multiple communications platforms across the company. Simultaneously, each team and project can have their own channels allowing targeted discussions that can relatively easily be kept on topic.
The channels are a key part of Slack's popularity and usefulness as they allow discussions to be kept on topic. If a channel is facing too much off-topic chatter, this can be split into a new channel. People can be added to channels relevant to their work and then can choose to join other interest-based channels. The creation of channels that aren't specifically team-based also encourages wider communication and relationship building in the company.
How to Make a New Channel on Slack
To add a new channel, you first need to click "Add channels."  It's at the bottom of the "Channels" section in the sidebar, then select "Create a new channel."
Tip: Only users with the correct permissions can create channels. If you can't see the option, you may need to ask someone else to make channels for you.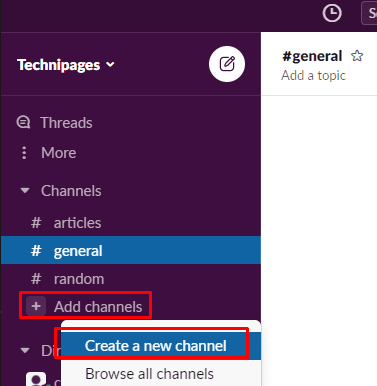 In the channel creation window, enter a name for the channel and a description.
Tip: Ideally, the channel name should be somewhat descriptive of what the channel is about. For example, a team channel should be named after the team, a project channel after the project name, an interesting channel after the interest, etc.
Select if the channel is private or public with the "Make private" slider. Public channels can be joined by anyone in the workspace. In contrast, private channels can't be seen if you're not a member and can only be joined by invitation. Once you're happy with the new channel's configuration, click "Create" to create the channel.
Slack channels are a great way to organize communication in a workspace to manage crosstalk. However, only users with the correct permissions can create new channels. If you follow the steps in this guide, you'll be able to create your own channels.