Notifications in Slack are a great way to keep up with the messages you've received, comments you've been mentioned in, and message threads that you've been a part of. While you may want to be notified of each message coming in, you may not necessarily have the privacy that you want to be able to check them. This is especially important when dealing with potentially sensitive data such as client data or personal data as there could be legal issues if the information was disclosed.
One way you could be sure that no one else can see your notifications is to disable them completely, however, this obviously is not ideal as it then means you can't see that you've got new messages as easily. The best way to prevent someone from being able to see your notifications is to disable the message preview within the notifications. Disabling the message preview means that you still get the notification, but instead of including the first few words of the message, you just get a generic notification telling you that you have a message.
To disable message previews in notifications you need to configure your preferences. To do so, click on your profile picture in the top-right corner, then click on "Preferences".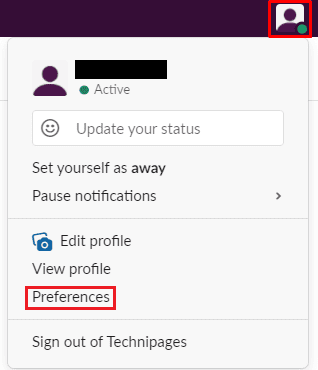 Once in your preferences, scroll down to the "Sound & appearance" section of the default "Notifications" tab. Next, untick the checkbox labelled "Include a preview of the message in each notification (disable this for extra privacy)". With this checkbox disabled, message previews will be omitted from notifications. Now if you're in a situation where you haven't got the privacy you may need; you can choose to not look at the message until you have the privacy you need again.
I hope this guide helps you to keep your Slack message notifications private.