Ahhh, the never-ending battle in trying to save as much mobile data as you possibly can. Just because you want to save mobile data doesn't mean that you have to restrict yourself from listening to your favorite music.
There are things you can do to save mobile data while you're listening to Spotify. Some of these things are sitting in the app's settings, waiting for you to use them. What could they be?
---
Save Mobile Data by Downloading Your Spotify Playlist
Spotify allows its users to download a maximum of 10,000 songs per device (maximum of five devices). The songs won't be downloaded into your phone's music folder, but you will be able to listen to music without an Internet connection.
There is one downside to downloading your music. You can only download the entire playlist and not individual songs. It's an all or nothing deal. If you're OK with that open the album or playlist you want to download.
The download option will be right under the Add Songs one. Toggle on the Download option, and the process will begin. How long it will take for the songs to download will depend on the number of sings you've downloaded, but it shouldn't take too long.
When you've downloaded all your songs, they will now have a green download icon on each song. Even if you have a considerable amount of albums, you'll still be able to tell which albums you've downloaded since each downloaded album will also have the green download icon beside them.
---
Use Offline Mode and Data Saver
In Settings, there is an Offline Mode that allows you to listen to your songs, even without an Internet connection. If you're in the app's main page, tap on the Library tab and tap on the cog wheel at the top right.
Once in Settings, Data Saver will be the first option on the list. What this 0ption does is that it will lower the music quality. What this means is that Spotify will stream your music at 24kbps when you are streaming over cellular data. This feature is on automatically.
When Spotify detects that you are listening to music over Wifi, it will switch back to normal music quality automatically that is 320kbps.  Another way you can change the music quality to save mobile data is by going to Settings and swiping down to Music Quality.
It will be set to Automatic so it can switch music quality depending on how you've connected tot he Internet. If you want to change it manually tap on the drop-down menu and select Low.
Two options down, you will see the Download using cellular option. Make sure that this option is off since you could end up downloading a lot of songs over your data plan. The best way you can save mobile data when listening to Spotify is by using WiFi as much as possible, whenever possible, of course.
Also, make sure that Autoplay is off as well if you are listening to a downloaded playlist-on-the-go. This feature can be turned off by going to settings and swiping down to the Autoplay feature. Toggle it off, and you're good to go.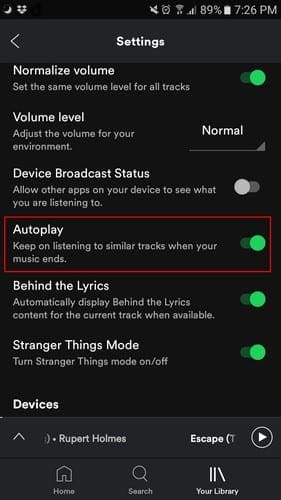 ---
Conclusion
Saving mobile data doesn't have to mean restricting the amount of music you listen to. Spotify has a few tricks up its sleeves so you can continue to listen to your favorite music and save mobile data at the same time. How do you save mobile data on your device? Let me know in the comments.