Did you ever notice any specific ad following you across devices though you're not looking for any similar product or services anymore? If you find this concerning, Privacy Badger Chrome Extension is your best bet.
Website owners and online advertising agencies use Clickstream data analytics to track every movement and click you make on websites and apps you visit. This is the profiling of your intentions on the website or app so that digital marketers and ad agencies can create profitable sales or marketing funnel solutions.
So far there shouldn't be any objection from your end. But the issue arises when some extra-smart digital marketers or web data analytics agencies track you using web trackers not just on a specific website but wherever you go using the internet. Many internet users like you consider this a serious privacy violation.
Though most online ad agencies and marketers don't do this. Also, no shortage of creepy marketing agencies blatantly use web trackers to track users without their consent. If there is any consent from your end, you may not know that too!
To teach such spooky web analytics and marketing agencies a lesson on internet ethics and user data privacy, you must install the Chrome Privacy Badger add-on. Read on to find out more about the extension like what it is, how to use Privacy Badger Chrome, etc.
What Is the Privacy Badger Chrome Extension?
Privacy Badger is a web browser add-on that stops all third-party trackers from tracking your activities on the internet. For example, you visit a website and interact with its products or services.
Then, you close the website and move on to play a game on your mobile phone. Now, the game has a revenue model where it shows you some ads against which you get diamonds, credits, new skins, better skills, etc.
You just opted to watch ads and suddenly you see ads from the website where you clicked on a product previously.
And that's not the end of it! The same ad may shadow you whether you visit a tech blog, read some news on Google News, and so on.
The Privacy Badger Chrome Extension blocks such persistent web trackers so that third-party websites can't track you and violate your privacy rights.
It uses an algorithmic approach to understand the behavior of malicious web trackers. Then, it blocks the access at some point and the third-party entity who might be tracking you sees that you just vanished from their radar.
How to Get the Privacy Badger Chrome Extension
You can install the extension Privacy Badger on your Google Chrome browser by visiting this Chrome Web Store link. Once there, follow these steps to activate Privacy Badger for Chrome:
Click the Add to Chrome button on the right side of the extension.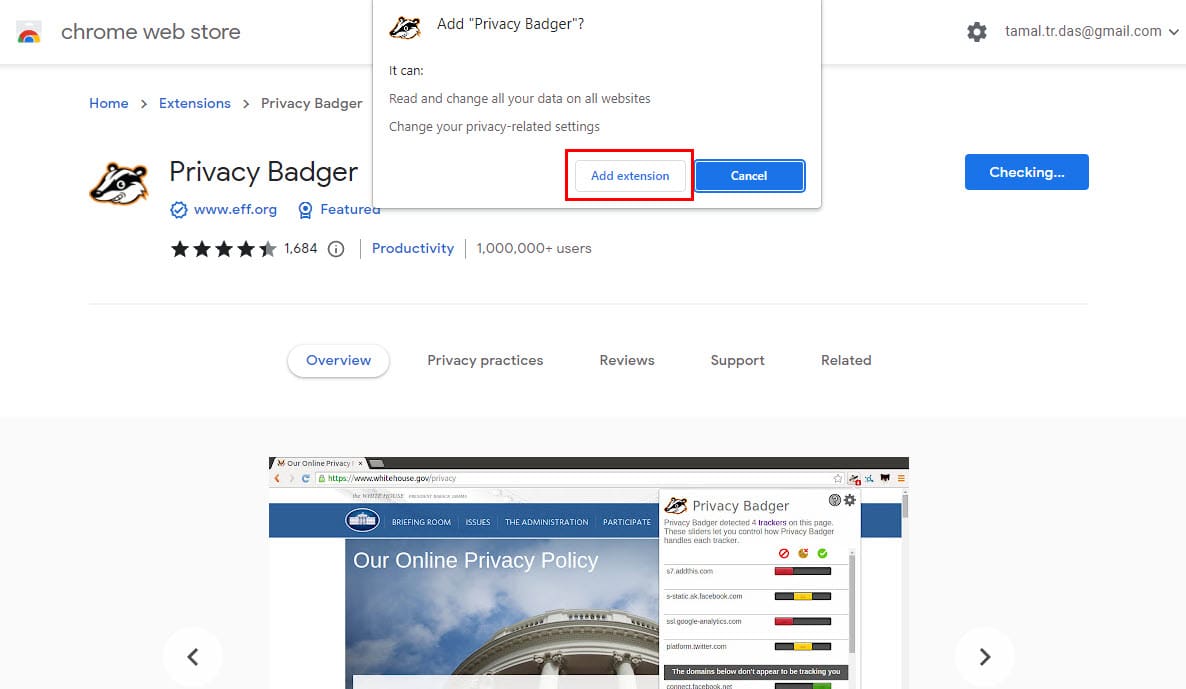 You should now see the Add "Privacy Badger"? pop-up consisting of the Add extension button. Click it.
Chrome will install the extension however it won't show up instantly.
You must click the Chrome Extension button on the top right corner of the browser window to Pin the extension to the address bar.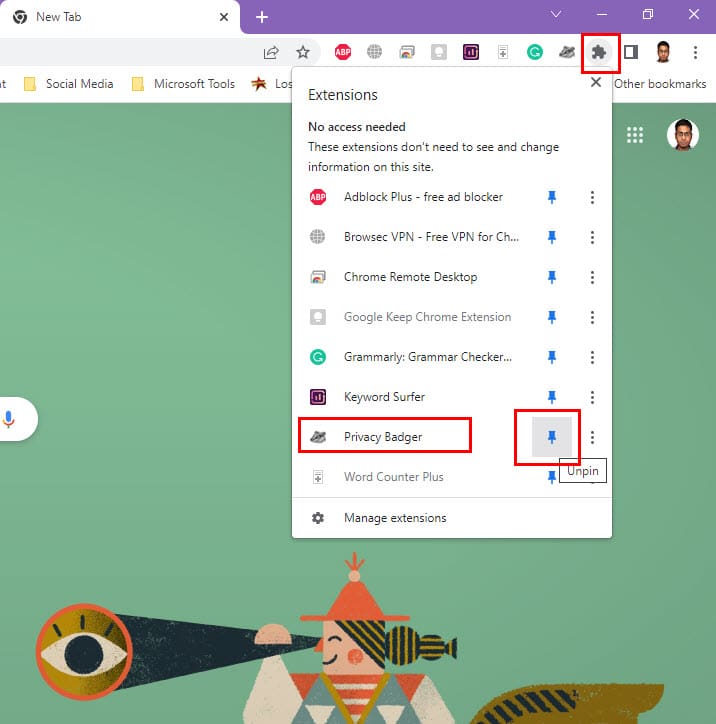 Now, simply click the Badger icon to activate the web tracker blocking tool.
Not on Google Chrome but like what you see here? Not a problem at all! You can get the Privacy Badger browser add-on for the following web browsers compatible with Windows PC or Mac:
At the time of writing, the Google Chrome browser for smartphones and tablets doesn't support the installation of extensions. However, if you're insisting on using this privacy protection tool on mobile devices, you can use Mozilla Firefox as the browser and download the extension by visiting this link.
If you use MacBook or iMac and also prefer Safari over all other web browsers, you must know that the extension isn't yet available for Safari. However, Safari on macOS encounters very less web tracker-based monitoring of users across the web when compared with Windows 11 or 10 operating systems.
How to Use the Privacy Badger Chrome
Once you've installed the extension for Chrome, follow these steps to use the tool:
Click the Badger icon when you're browsing a website.
It would show No trackers blocked if there aren't any trackers to block.
When the tool blocks any tracker, it would show here.
Since there's an AI working in the back end, you don't need to do much on the app interface. However, you may want to familiarize yourself with its Settings and the steps are as mentioned here:
Click the cogwheel icon to access Settings.
On the Privacy Badger Options page, you get the tabs like General Settings, Disabled Sites, etc.
In the General Settings tab, you can check mark the Learn to block new trackers from your browsing check box to enable AI learning.
The Disabled Site tab lets you add site addresses to let the tool know that you don't want it to prevent trackers from the excluded URLs.
Now, keep browsing many websites after installing the tool.
You'll see a number ticker keep on increasing on the Badger icon as it blocks more persistent trackers across many locations on the internet.
Privacy Badger Extension Features
It boasts some advanced features to empower you to have a say when it's a matter of your privacy on the internet. If a website or ad agency ignores repeated Do Not Track (DNT) requests, the extension blocks the tracker permanently.
Find below its features that make personal privacy possible while browsing the wild internet filled with web trackers and other spyware to spy on you:
1. AI-Based Learning Engine
You don't need to keep a list of URLs and trackers to be blocked. This privacy extension is an artificial intelligence (AI) based program that automatically blocks trackers when the originating website doesn't respect multiple DNT requests.
2. Blocks the Toughest Sneaky Trackers
Online advertising and website analytics agencies constantly track you with either visible trackers or invisible JavaScript tags powered by React components.
On the other hand, Privacy Badger efficiently blocks all these sneaky trackers if they violate multiple Global Privacy Control (GPC) signals and DNT instructions.
3. It's Not an Ad Blocker
Privacy Badger doesn't block any ads that comply with the ethical guidelines about customer and user privacy on the internet. It'll only block an ad if the underlying tracker doesn't honor the GPC and DNT signals.
4. Manage Your Own Data
Suppose, you used the tool for years and now need to switch devices or re-install Windows 11. Since the tool is an AI-based program, it'll take some time to learn after a fresh installation.
Hence, to avoid this delay, you can export a copy of the existing Privacy Badger AI data and import that into the new operating system's Chrome browser.
5. Advanced Tracking Domains Management
In the Tracking Domains tab in the Privacy Badger Settings section, you can see the blocked URLs, ads, and trackers.
For research and development purposes, you can add domains for exclusion from the monitoring by entering the domains within quote marks in the Search domains field.
6. Replace Social Media Tracking Widgets
It might sound spooky but it's true that like, watch videos, comments, stickers, etc., buttons on social media like Facebook and Twitter also deploy trackers.
If such trackers violate privacy guidelines like GDPR and California Consumer Privacy Act, Privacy Badger will replace the buttons with click-to-activate placeholders.
It doesn't block such buttons outright. You can use the buttons only when you click the placeholder. Until you click, Facebook or Twitter can't track you using these buttons anymore.
Chrome Privacy Badger: Final Words
Now you know how to tie the loose ends after you visit a website that's filled with sneaky and persistent trackers that don't let you go off the radar. Just install Privacy Badger and experience the difference.
Don't forget to comment below on how did the app help you protect your privacy and ensure safe browsing.