If you want to send an email to a group of people, you can create a contact list to get the job done quicker. For example, you can group all your work colleagues in a contact list called Work. Unfortunately, Outlook may sometimes fail to send emails to contact lists. Let's see how you can fix this problem.
What to Do If Outlook Won't Send Emails to Contact Lists
Recreate the Problematic Contact List
Many users resolved this problem by creating a new contact list. Create a copy of the problematic contact list and then delete it. Restart Outlook and recreate your contact list.
If this issue affects the stand-alone Outlook app, go to www.outlook.live.com and send your email out via the web app. Log out of your account, wait for a few seconds, then log back in and check if you notice any improvements.
If the email contains large attachments, delete them. Use a file compression program to reduce the size of your attachments and try again. You can also temporarily disable your antivirus and firewall and check if that changes anything.
Get the Latest Office Updates
Make sure to update Outlook and Office to the latest version. If this issue is caused by a software bug, it's probably patched in the latest Office version.
Launch Outlook and click on File.
Then go to Office Account.
Select Update Options.
Hit the Update Now button.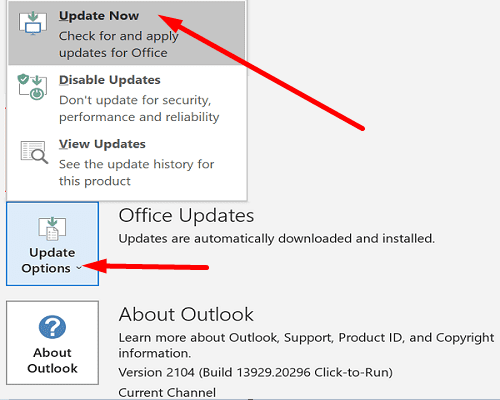 Repair Office
Outlook is part of the Office Suite, so any issues affecting your Office install files impact Outlook as well. Repair Office and check if the problem persists.
Launch Control Panel.
Go to Programs.
Select Programs and Features.
Then select Office and hit the Change button.
First, run the Quick Repair tool.
If the issue persists, run the Online Repair tool as well.
Restart your computer and try to send your email again.
Repair Your Outlook Profile
Launch Outlook and go to File.
Navigate to Account Settings.
Go to the Email tab, click on your user profile and select Repair.
Follow the on-screen instructions and restart Outlook.
Keep in mind that the Repair option is not available if you're using an Exchange account. If the issue persists, go to the next step.
Start Outlook in Safe Mode
Press the Windows key and R to launch a new Run window.
Enter outlook.exe /safe in the search field and hit Enter.
Try to send an email to your contact list.
If the attempt is successful, this indicates one of your add-ins is interfering with Outlook. Disable all your add-ins and then re-enable them one by one to identify the culprit. Then update or remove the problematic add-in.
Conclusion
If Outlook doesn't send emails to specific contact lists, recreate the problematic contact list. Then try to send your emails via the web app. Make sure to update Office to the latest version. Additionally, repair your Outlook profile and Office install files. If the issue persists, try running Outlook in Safe Mode.
Which of these solutions helped you fix the problem? Let us know in the comments below.