In Linux Mint, the clock and calendar in the bottom-right corner of the screen is an "Applet". An "Applet" is a small application that displays in the bottom bar. There are a number of applets installed and enabled by default and there are more that can be manually added.
You can configure the clock and calendar applet easily by right-clicking on it in the bottom-right corner, then clicking on "Configure".
There are three options available for the applet. The first, "Show week numbers in calendar", changes the calendar so there is a week number on the left.
The bottom option allows you to configure a keyboard shortcut to open the calendar. By default, it is "Super + C". You can edit the current shortcut by clicking on it and then entering your own keyboard shortcut or you can add a new one by clicking in the "unassigned" box.
Tip: The "Super" key is the name that many Linux distributions use to refer to the Windows key or the Apple "Command" key, while avoiding any risk of trademark issues.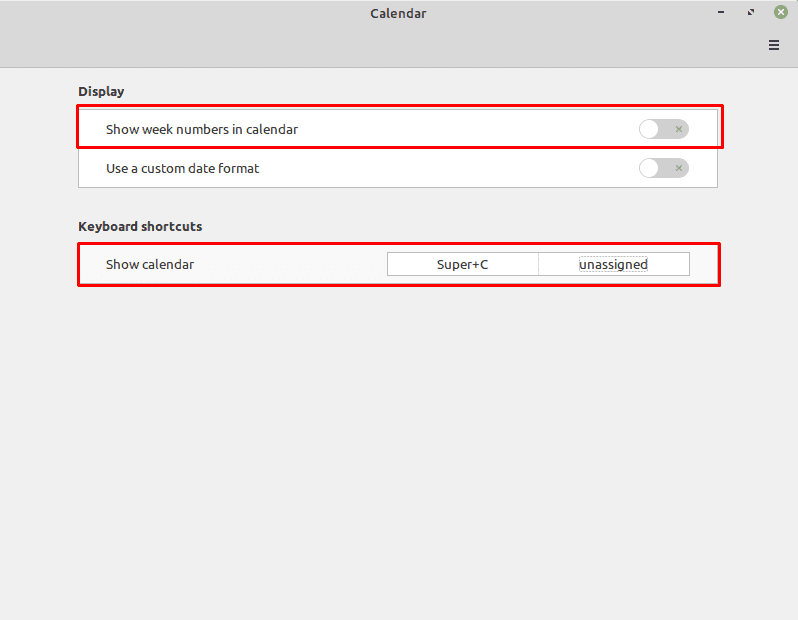 If you enable the "Use a custom date format" then a new option will appear allowing you complete control over what appears in the minimised applet. To view the full syntax, you should clock on "Show information on date format syntax" which will open a webpage with instructions on how to format the clock to your preferences.
The default syntax is "%A, %B %e, %H:%M" which means: full day name, full month name, day of the month, hour of the day (24 hour), and minute of the hour.