If you see someone on LinkedIn that might have the experience you need, you look at their profile. While looking, you see they are not exactly what you're looking for. But, after a while, you notice that they also viewed your profile. How did they know you viewed their profile first?
What happens on LinkedIn is that when you view someone's profile, the social network sends the other person a notice it was you. That's how they know you viewed their profile. This doesn't happen on other social networks such as Twitter or Facebook. So, is there anything you can do to stop this?
How to Stop Others from Knowing You Viewed Their Profile
Note: LinkedIn will still notify the other person that their profile has been viewed; they won't know it's you since your name will be hidden. You can permanently block them if you want nothing to do with this person.
Once you've signed into your LinkedIn profile, click on the Me dropdown menu and go to Settings and Privacy.
On your left, you should see various options. Click on Visibility, and choose the Profile viewing options to your right.
By choosing the Private mode option, your name will not appear in the notification. The other person will still be notified that someone on LinkedIn viewed their profile, but this time they won't know who. Remember that since others won't know that you saw their profile, you won't know who saw yours.
The Private mode options go both ways. If you're good with that, enjoy the feature. You can also see who viewed your profile in the notification icon at the top. Even if it's not marked, if you click on it, you should see it.
How to View the History of Who's Seen Your LinkedIn Profile
You decided to go Private Mode, but you remembered that someone of interest saw your profile last week. Since you recently went private mode, it will still be listed, but where? Go to your home page, and under your profile picture, you should see the option that says Who's viewed your profile.
Click on that, and on the next page, you'll see the listing of everyone who has seen your LinkedIn profile. At the top, you'll see a chart showing your profile views. You'll also see filters you can use if you want to know how many views you got from a specific company. The existing filters will be a company, industry, and location filter. Choose an option and click on the show results option.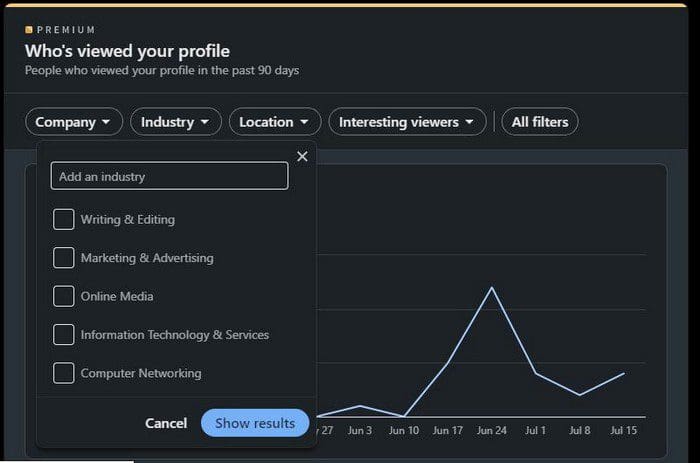 If you want to see or add more filters, click on the All filters option. A side window will appear. Each section will have a button to add another option. You'll also see a reset button at the bottom.
Conclusion
By switching to private mode on LinkedIn, no one will see that you saw their profile. They will get a notification letting them know that someone viewed it, but they won't get a name. So you can say goodbye to looking at someone's profile and having them look at your 5 minutes later. Do you think that this is a permanent change? Share your thoughts in the comments below, and don't forget to share the article with others on social media.