TikTok is a short-form video-sharing social networking application. It has reached massive popularity since its conception in 2012, being at the forefront of dance trends and video memes. Made available to users outside of China in 2017, it was strictly limited to iOS and Android smartphones. Unfortunately, it still is.
However, if you're looking to download TikTok to your iMac–the Apple desktop–there is a way to "bypass the system," if you will. The answer? Bluestacks. It is important to note that because we are focusing on helping you download TikTok onto your iMac, we will be following the iMac route. Bluestacks does, however, allow one to run TikTok on a PC as well.
What is Bluestacks?
Bluestacks AppPlayer allows you to run mobile games and applications — full screen — on your iMac. This is because it is an emulator. An emulator allows you to use your program as if it were another piece of software. Bluestacks is an extremely reliable program, with over 210 million users. There's no need to worry about it being a scam or virus.
How To Download Bluestacks
First, start by navigating to the Bluestacks AppPlayer download portal. It is linked here for quick access and is free to download. Bluestacks automatically detects your Operating System and chooses the correct version of what you need.
Before installing and opening the application, make sure other apps and programs are closed. This is because the AppPlayer is more likely to cause your iMac to crash than your PC. Also be sure that you have a Mac app store account. If you don't, quickly sign up for one. You won't be able to run the software without it. Once you've taken care of those two things, go ahead and locate the installer dmg. file and follow the installation directions.
If your iMac is blocking the system extension, go to your Security Preferences and allow the extension to be run. Another technical glitch you could run into is compatibility issues. This is what makes the app crash your computer in the first place. Bluestacks has fixed their compatibility issues with Mac iOS Mojave (10.14), however it is not compatible with anything below Mac iOS Sierra (10.12). If you are finding that the AppPlayer is not working properly on your iMac, it could be time for an operating system upgrade.
After you have successfully installed the program, open Bluestacks AppPlayer. The icon looks like a stack of green, yellow, red, and blue squares. If you did not already click and drag the icon to your dock, go into your Applications folder and select it from there.
Now that the AppPlayer is open, go to the App Center tab — second from the left. It will automatically bring up a screen and ask you to log into your Mac app store account. Give the screen a moment to load.
Once you're in, behold the possibilities!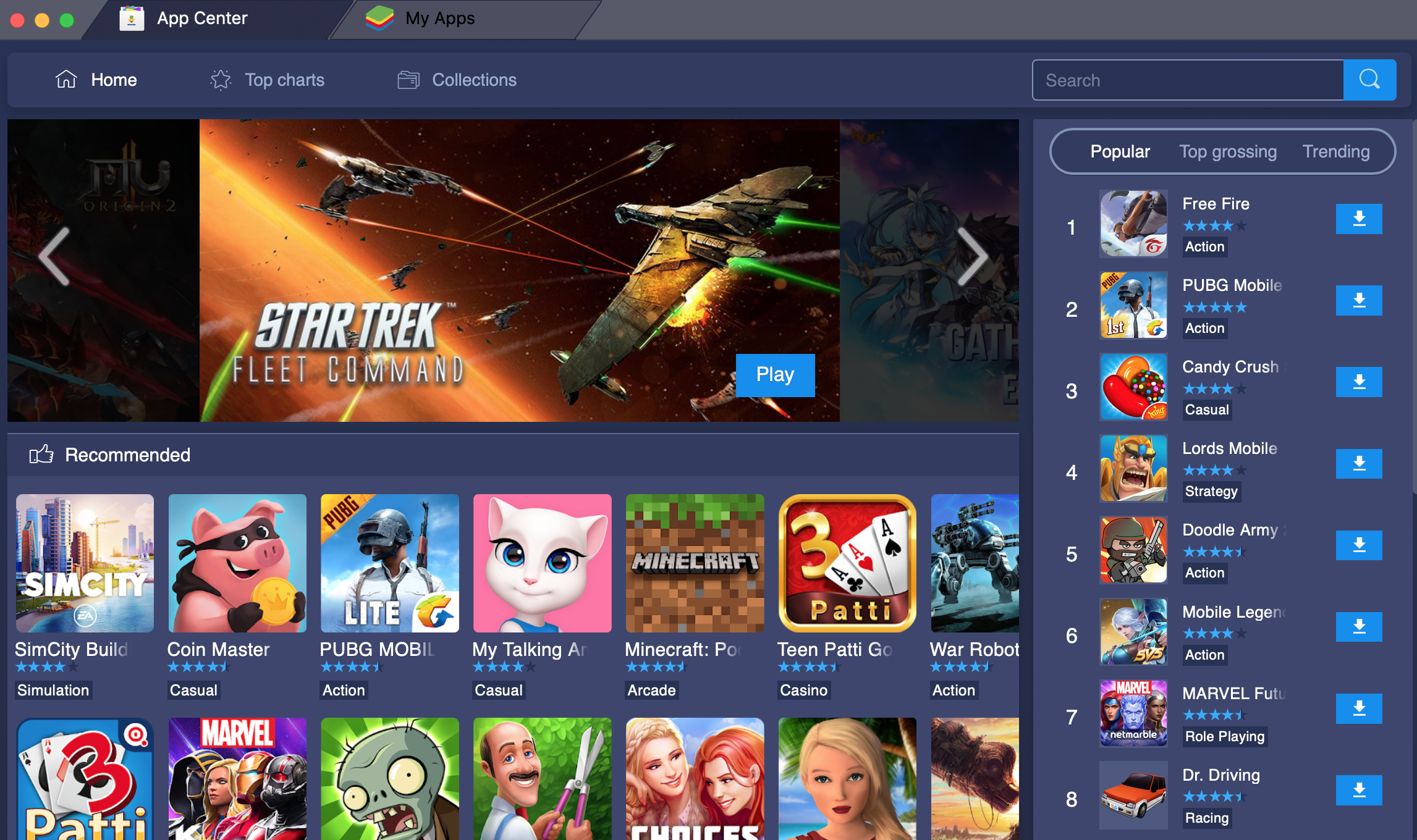 Installing the TikTok App
Now it's time to install TikTok. Search for "TikTok" in the search bar in the upper righthand corner. If you're unfamiliar with the icon, it looks like a black-and-white music note. Once you've located the application, click the green install button.
If you already have a TikTok account, you can sign in and access your account and your uploaded videos. Otherwise, feel free to create a new account. Now, each time you launch Bluestacks, you can find TikTok under the My Apps tab.
The emulator allows you to record, upload, and edit videos from your iMac as well. Macs come preloaded with iMovie, but you may want to try out other video editing software like Avidemux or OpenShot. Whatever program you choose, make sure it will export videos into a file format TikTok recognizes: .mp4 or .mov. Proceed to upload a video as you would on your phone.
Conclusion
If you are in need of more precise video editing and just a bigger screen to look at in general, definitely consider downloading Bluestacks on your computer. It will allow you to use TikTok in pretty much the same way as you would on your phone. Well, you won't be able to carry around your iMac with you wherever you go, but you get my point. Happy TikTok-ing!