You bought a phone without checking if it was dual-SIM or not. Maybe at the time, you didn't care if it was a single or dual-SIM, but you want to check just in case you ever end up needing a dual-SIM phone.
When you bought your phone and looked at the spec list, whether the phone was dual-SIM or not should have been there. Sure, you could go online and look for your specific model, but there's a faster way to check. You only need to go into your device's settings.
How to Check If an Android Phone is Dual-SIM
To see if the phone your using is dual-SIM, go into your phone's Settings app. Tap on Network and internet.
The SIM cards option should be right below Airplane mode. If you see that the option shows you two slots for a SIM card, your phone is Dual-SIM.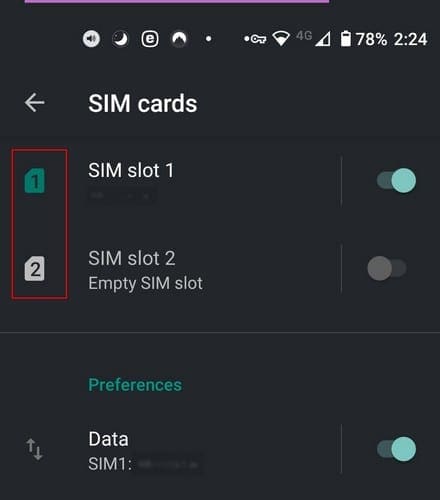 If you just discovered that your phone is dual-SIM, you know that just because a phone is dual-SIM, it doesn't mean that the phone needs to be different in design from the other single SIM phones. What does change is that tray where you once introduced the SIM card not only works for a microSD card but can also be used for another SIM card.
The Advantages of a Dual-SIM Phone
When you have a dual-SIM phone, you can easily split your work and personal life. So, when the weekend comes, and it's your free time, you can go ahead and temporarily disable the work SIM until Monday. With a dual-SIM phone, you can decide which phone number will be your primary and which one will be the secondary.
When you have an unlocked dual-SIM phone, you can also enjoy the deal different carriers offer. You can get the best of both worlds and get the best deal of those two carriers and save some serious cash. You can also assure you won't be without coverage by having two phone numbers from two different carriers. If one carrier has great prices but not so great coverage, you can always switch to the other until you're in an area where both numbers can work.
The Disadvantages of a Dual-SIM Phone
Just because you have a dual-SIM phone doesn't mean that you will surely get calls and messages simultaneously. The phone needs to have active dual-SIM functionality to get messages and calls from both phones simultaneously.
When looking into buying a dual-SIM phone, it's important to check that it's not a standby dual-SIM phone. If it is, you'll need to switch between SIM cards to get your messages and calls.
Final Thoughts
Some might think that having a dual-SIM phone is not necessary. But, it's always a good idea to have the option to add another number. You might not need it now, but you never know when you will. Even if you only insert one SIM card on a dual-SIM phone, you won't notice the difference in how you get calls and messages. What are your thoughts on dual-SIM phons? Share your thoughts in the comments below.