If you want to pin "This PC" to your Windows 11 taskbar but you're unsure how to do that, you've come to the right place. This quick guide will list the steps you need to follow to get the job done. By pinning "This PC" to your taskbar, you can always have this handy shortcut within easy reach.
How Do I Pin "This PC" to Taskbar on Windows 11?
Create a New "This PC" Shortcut
Right-click on your Windows 11 desktop
Select New → Shortcut
Paste the following path in the location field: %SystemRoot%\explorer.exe shell:MyComputerFolder
Name the new shortcut "This PC Taskbar" and hit Finish
The new shortcut icon should now be visible on the desktop
You need to assign a new icon to your shortcut. If you don't do that, you'll have two File Explorer icons on your taskbar.
Right-click on This PC Taskbar and select Properties
Click on the Change icon button
Select the Computer icon and save the settings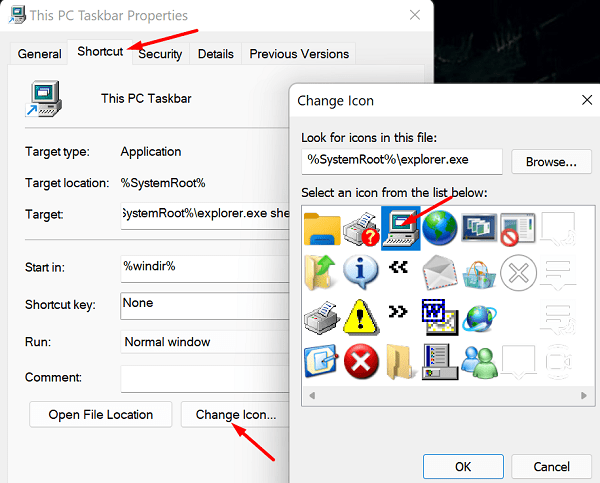 You can now finally pin the shortcut to your Windows 11 taskbar. Simply right-click on it and select Show More Options. Then, click on Pin to taskbar, and you're done.
Set File Explorer to Open "This PC"
Type File Explorer Options in the search box
Click on the General tab
Go to Open File Explorer to
Change it from Quick Access to This PC
Save the settings
Pin File Explorer to the taskbar
Your File Explorer taskbar shortcut will open to "This PC" when you click on it.
While these two methods may not be the solutions you've been looking for, they can help you access "This PC" quicker. Unfortunately, Windows 11 no longer supports the option to pin "This PC" to your taskbar. If you right-click on "This PC," there's no "Pin to taskbar" option.
Conclusion
To pin "This PC" to your Windows 11 taskbar, you need to create a special "This PC" shortcut and change its icon. Then, right-click on the new shortcut and pin it to your taskbar. Alternatively, you can also set File Explorer to open "This PC" instead of "Quick Access."
Did you manage to pin "This PC" to your taskbar? Share your feedback in the comments below.