Do you want to spice up your Twitch and YouTube live streams or video uploads with creative graphics and animated frames? Learn how to make a Twitch overlay for free below.
Stream overlays include graphical elements like fashionable typefaces, transitions, images, icons, buttons, hyperlinks, real-time subscriber data, and more.
Twitch streamers started using such overlays on their live streams to engage their viewers. Other vloggers followed suit, and stream overlays became a trend.
As stream overlays became popular, the cost of overlay packages increased extensively. If you're a buddying Twitch streamer or YouTuber, it's better to create one for free and save the cash for a rainy day.
Read on as I explain how to make a Twitch overlay using simple graphic designing tools that don't require graphic designing expertise.
How to Make a Twitch Overlay
The best way to make a Twitch overlay is to use an online graphic design app. Most of these web apps come with a dynamic range of Twitch overlay templates. You must personalize these templates according to your brand, taste, and creative thoughts.
What Software Do You Use to Make Twitch Overlays?
You can use any graphic designing app to make an overlay for Twitch. The only requirements are the features like background transparency, adding text, color palette options, adding frames, and so on.
YouTubers and Twitch streamers mainly use online graphic editing tools like Canva, Placeit, Adobe Express, etc. For offline stream overlay creation, you can try Streamlabs and OBS Studio.
You can also use Adobe Photoshop to make Twitch overlays. But it'll require extensive Photoshop editing skills. Also, you'll have to devote a lot of time to creating layers, choosing colors, adding text layers, and more.
Once you create a Twitch overlay, you can use the same on almost any live-streaming platform. All you need to do is learn how to add overlay to OBS Studio and start streaming right away!
How to Make a Twitch Overlay: Best Online Tools
Find below the ultimate list of which most let you create Twitch stream overlays for free. However, you can subscribe to paid subscriptions of these tools to get premium templates and design elements.
1. Canva
Canva is one of the most popular web apps to make an overlay for Twitch from outstanding stream overlay templates. Its editing tool works on the drag-and-drop design concept.
You pick elements and place them on the canvas to compose a Twitch frame or banner. It offers a free plan for newbies and buddying Twitch streamers.
2. VistaCreate
VistaCreate is also ideal for producing Twitch overlays that you can reuse on other platforms like YouTube, Facebook Gaming, etc. However, its Twitch frame template collection is limited.
VistaCreate has a free plan; however, you may want to sign up for a paid plan to use its premium features like background remover, premium shapes, high-quality vector graphics, etc.
3. Placeit
Some Twitch and YouTube gamers also use Placeit to create stream overlays. It offers a free and no-sign-up editor for Twitch overlay template editing. The best thing about this web app is you can filter overlay templates by options like game title, fantasy, horror, hip-hop, and more.
What Makes a Good Twitch Overlay?
A Twitch overlay should look good and engage the audience if you include the followings:
A viewer interaction panel that'll show recent likes, shares, new subscriber count, latest subscriber's name, latest donations, total donation amount, etc.
A separate frame for goals of the event, like achieving 50 subscribers, collecting $1,000 for a social cause, and more.
Display buttons with hyperlinks to your social media handle like Facebook, LinkedIn, Twitter, etc.
A content screen where you'll stream the actual video.
A webcam frame where the audience will see you in action.
The live chat frame shows the current engagement status of the audience.
While making an overlay for Twitch, follow these tips to make it better than others:
Contains unique and creative frames, buttons, color combinations, etc.
Don't copy-paste someone else's Twitch overlay.
Refrain from using too many on-screen overlays, as these might distract the audience.
Test the overlay with a few top audiences before making it public.
4. Twitch Overlay
Twitch Overlay is a popular destination for paid and free stream overlays. You can download free Twitch overlays from this website. Then, edit the content on an online or offline graphic designing tool to make the overlay production-ready.
5. Nerdordie
You can also check out Nerdordie's free Twitch overlay maker app. It's a pretty basic stream overlay designer with text-based editing options.
You pick options in the app and then download an example. If you don't like the output, try modifying the inputs. It also offers some free, ready-to-use stream overlays.
6. Adobe Express
Adobe Express is also gaining popularity as a free graphic designing web app. It has recently added a massive library of free and paid Twitch overlay templates. If you're wondering how to make an overlay for Twitch, you can try Adobe Express.
How to Make a Twitch Overlay in Canva
Creating a stream overlay in Canva is pretty straightforward. Follow these steps on your Canva editor as I mention below: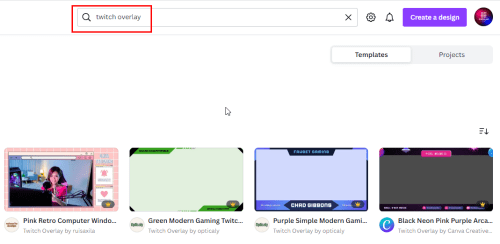 Type "Twitch overlay" in the template search field and hit Enter.
Click on a free template. Paid templates will show a yellow crown at the bottom-left corner of the thumbnail.
Click Customize this template.
You should now see the Canva design editor screen along with the template you've chosen.
Double-click texts to modify those.
You may select the frame elements and modify color composition depending on your brand's color palette.
Also, you can add additional vector graphics from the Elements section.
Click Share and then select Download to explore download options like PNG, JPG, etc.
The free version won't allow you to download a transparent overlay.
Once downloaded, use it in your Twitch streaming software.
What Size Should a Twitch Overlay Be?
When searching the web for how to make Twitch overlays, you naturally want to know the ideal size and aspect ratio for a Twitch overlay.
You must aim for a 1920 x 1080 pixels stream overlay for Twitch. You can use the same overlay size for YouTube and Facebook Gaming. The aspect ratio for such a Full HD stream overlay should be 16:9.
Conclusion
So, now you know how to make a Twitch overlay using various online graphic designing tools. You've also learned how to make an overlay for Twitch on Canva. Moreover, we've covered the design ideas and aesthetics you must follow to make Twitch overlays.
Know another online or offline tool to make a Twitch overlay? Let us know by commenting below.
Next, learn how to set a placeholder image for an offline Twitch channel.