Zoom features a convenient option that allows the host to share the hosting privileges with another user. In other words, you can designate a co-host to help you handle various tasks during the meeting. For example, co-hosts can manage the participants, mute them when necessary, record the meeting, etc. The good news is that you can have as many co-hosts as you need; there's no limitation in that regard.
Unfortunately, sometimes Zoom won't let you share the hosting privileges with another user. The co-hosting option won't show up, or the hosting rights fail to transfer to your co-host. Let's see how you can troubleshoot this problem.
Fix: I Can't Enable Co-Host in Zoom
⇒ Important Note: Co-hosting is available only on Zoom Pro, Business, Education, and API Partner plans. So, keep in mind that the co-host feature is not available on the Free version of Zoom. You need to upgrade your plan if you want to use it.
Check Your Account Settings
Make sure the option to add a co-host has been enabled in your account settings.
Log in to the Zoom web portal and go to Settings.
Then select the Meeting tab and scroll down to In Meeting (Basic).
Locate the Co-host setting. Toggle it on if it's disabled.
By the way, if the Co-host option is greyed out, this indicates your Zoom admin locked it at either the group or account level. You may want to contact your admin for further details about the current settings.
Use Zoom on the Web
As always, if your Zoom options fail to work as intended on the desktop app, go to zoom.us and check if you can add your co-host there. Oftentimes, if the desktop app is affected by various glitches and hiccups, you should not experience them on the web version of Zoom.
Update Your App
Is there a newer Zoom version available? If there is, install it on your device and try to add your co-host again. Zoom usually downloads the latest updates on its own, but sometimes it needs a little push. So, click on your profile picture and hit the Check for updates option.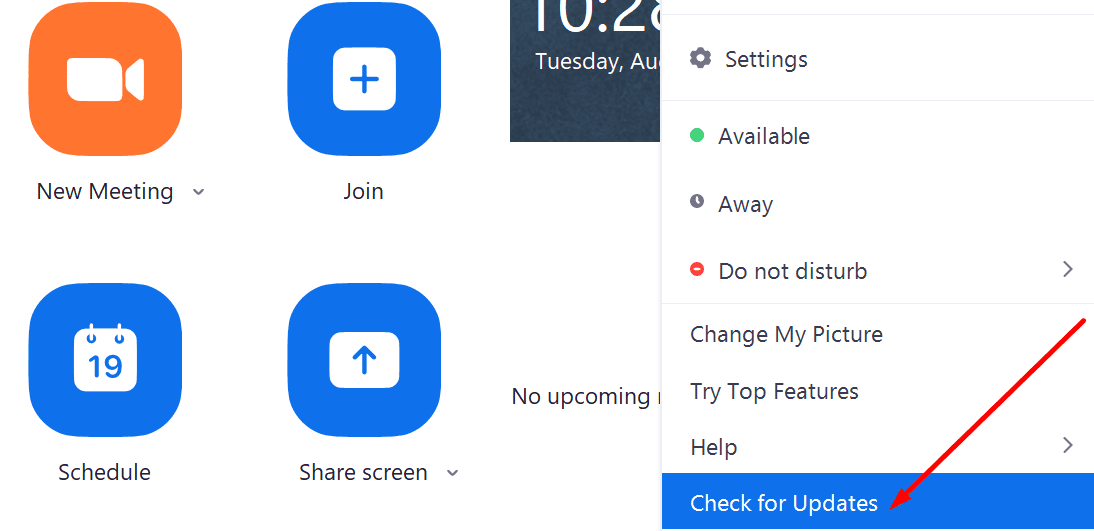 Then restart the app and try to share the hosting privileges with your colleague(s) again.
Conclusion
If you can't share the hosting privileges with another Zoom user, make sure this option is enabled for your account. Then update the app or try to use the co-host option on the Zoom web app. Did you identify other culprits for this problem? Use the comments below and list the troubleshooting methods you used to fix the issue.