Ghost touches are some of the most annoying touch glitches on Android. Basically, the screen responds to touches that you're not actually making. It reacts to input that doesn't actually exist. The same term can also refer to screen areas that remain entirely unresponsive to touch. Ghost touches can be triggered by both software and hardware issues. Let's explore what you can do to troubleshoot this problem.
How Do I Fix Ghost Touch Issues On Android?
Check for Overheating Issues
Overheating issues can cause a long list of glitches, including ghost touches. If your Android phone gets abnormally hot, turn it off and remove the case and screen protector. Wait until your device cools down.
Then, turn it back on and check your battery usage status. Uninstall the apps that regularly drain your battery or use too many system resources. Check if you notice any improvements.
Install the Latest Updates
Navigate to Settings, select System, and then tap System update. Install the latest Android OS updates on your device. Then, open the Google Play Store app and tap your profile picture. Select Manage apps and devices and install all pending updates.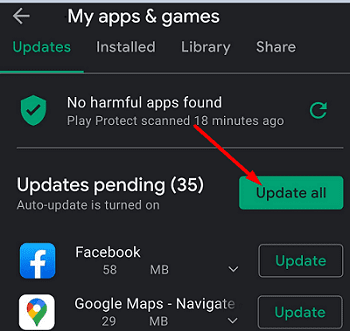 Scan Your System for Malware
Ghost touches on Android might be the result of malware infections. Launch the Google Play Store app, and tap your profile picture. Select the Play Protect option to check if there are any harmful apps on your device.
Additionally, go to Settings and tap Storage. Select the Cleanup button and remove junk files and unused apps, unnecessary app data, and duplicate files.
Disable Gestures
Try turning off Gestures and check if this solution does the trick for you. Go to Settings, select System, tap Gestures, and then disable all the options.
Depending on your phone model and Android version, you'll have access to different gestures. Make sure to disable all of them, including double-tap to wake, three-finger screenshot, misoperation prevention, and so on. Restart your phone and check if the ghost touches persist.
Have Your Screen Repaired
If the ghost touches started occurring after dropping your device on a hard surface, you may want to have your screen repaired. Faulty hardware may cause touch glitches. If your touch screen doesn't work correctly, chances are the digitizer is defective. As a quick reminder, the digitizer is a layer of glass placed over your phone's LCD layer that converts analog touch into digital signals.
Go to an authorized repair center and check if your hardware is indeed the culprit.
Conclusion
To fix ghost touch issues on Android, remove the case and screen protector to prevent overheating issues. Then, install the latest Android OS updates, and scan your system for malware. Additionally, disable gestures and have your screen repaired.
Did these solutions solve your problem? Let us know in the comments below.