Google Play error code 192 pops on the screen when your Android device fails to download new apps or games. The first thing you should do when you get this error is restart your device. If this stubborn error persists, pursue the troubleshooting solutions below.
How Do I Fix Error 192 on Android?
Clear the App Cache
If the error persists after restarting your device, force quit Google Play and clear the cache.
Go to Settings, tap Apps, select the Google Play Store app, and hit the Force Stop option.
Then go back to the Play Store app and select Storage.
Hit the Clear cache button and check the results.
If the issue persists, tap the Clear data option as well.
Repeat the same steps and clear the cache and data from the Download Manager and the Google Play Services app.
To make sure the cache files of other apps are not interfering with the Play Store app, go to Settings, select Storage, and hit the Clean up option to remove all of your junk files.
Use a Different Connection
If you're using a cellular connection, enable Airplane Mode for 30 seconds. Then disable Airplane Mode and make sure cellular data is off. Connect your device to a wireless connection and check if error 192 persists. By the way, if there are other devices connected to the same network, disconnect them and check the results.
Check Your Storage Space
Error 192 may also indicate you're running out of storage space. Go to Settings, tap Storage, and make sure your device has enough free space to download the new app. If your device is low on space and has less than 1 GB of free space available, delete all the multimedia files and apps you no longer need. Ideally, try to free up at least 5GB of storage space. Restart your device and try to download the problematic app again.
Eject Your SD Card
If your device is equipped with an SD card, make sure it's properly set up. Remove your SD card, restart the device, re-insert the card and try again.
Uninstall Play Store Updates
If error 192 started bugging you shortly after updating your Play Store app or Android OS, uninstall the app updates. Navigate to Settings, select Apps, tap the Google Play Store app and select More (the three dots). Then select Uninstall updates, confirm your choice, and restart the device.
Check Date and Time Settings
If your date and time settings are inaccurate, Google's servers may refuse to respond to your device's download request.
Navigate to Settings and tap Date and Time settings. Let your device automatically set your date and time settings.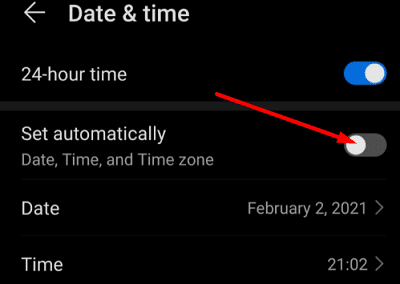 Remove Your Google Account
Error code 192 could also indicate the Google Play App failed to recognize your Google Account. To fix the issue, go to Settings, tap Accounts, and then select Remove account. Wait two or three minutes and re-add your account.
Conclusion
If error 192 prevents you from downloading new apps on your Android device, clear the Play Store cache and restart your device. If the error persists, use a different connection, uninstall recent Play Store updates and re-add your Google account. Drop us a comment below and let us know which method did the trick for you.