If you want to enjoy peace of mind and forget about the hassle of managing tens of passwords daily, grab a password manager. These tools house all your passwords in a single location helping you to simplify the login process. All you need to do is make sure you don't forget your password manager's password or master password.
There are plenty of password managing tools you can choose from, and 1Password is a great choice. But users may sometimes get a mysterious authentication error when trying to log in to their 1Password accounts. Let's see how you can troubleshoot this problem.
Troubleshooting 1Password Authentication Errors
Keep in mind that authentication errors usually occur after you changed your account password. More specifically, after you log in, the Authentication Error message pops on the screen, prompting you to enter your email address, the secret key, and other additional details. However, when you enter the exact same password you used to log in, you may get a new authentication error.
Check Your Account Details
If you have multiple 1Password accounts, ensure you're using the email address you initially used to create your main account. Additionally, make sure you're using the correct secret key associated with your account.
Check Your Keyboard Layout
I often switch between the English (US) and French (France) keyboard layouts on my computer. And sometimes I forget to change back the layout. Different keyboard layouts may use different key arrangements. Simply put, maybe you're not entering the characters you think you're typing. Click on your keyboard language icon and change it if necessary.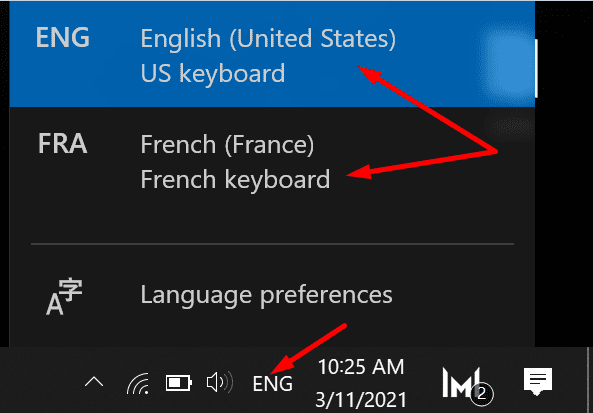 Use a blank Notepad document to make sure you're entering the right credentials for your 1Password account.
Sign in Using a Web Browser
If you can't sign in using the standalone app, check if you're able to log in using your web browser. Go to https://my.1password.com/signin, enter your credentials, and check the results. Try logging in in a private tab and check if you notice any improvements.
If the problem persists, update your browser and disable all your browser extensions. Of course, you need to keep the 1Password extension active. If this issue is caused by the other extensions interfering with 1Password, this method should help you fix it.
Check Date and Time Settings
Allow your PC to set up your date and time settings automatically. The webpages you visit, including 1Password, use this information to assess the security risks coming from your connection request. If you're using incorrect date and time settings, 1Password's security alerts will go off, blocking your login attempt.
Go to Settings and click on Time and Language.
Select Date and time and toggle on the two options that allow your computer to set the time and time zone automatically.
Then hit the SyncNow button to synchronize your clock to the time server. Additionally, make sure your computer is synced to the time.windows.com server.
Disable Your VPN, Antivirus and Firewall
VPN and security tools such as antiviruses and firewalls might interfere with 1Password preventing the service from authenticating you. So, turn off your VPN and disable your antivirus and firewall. Then check if the authentication error persists. If you manage to log in to 1Password without getting that error message, enable your security programs back on.
Conclusion
If you're having trouble signing in to your 1Password account, double-check your keyboard layout and ensure you're typing the right characters. Then try to sign in on the web and check your date and time settings. If the log-in issue persists, disable your VPN and security software. Did you encounter other specific 1Password sign-in problems or errors? Tell us more about your experience in the comments below.