If you're a PC gamer, you almost certainly have Steam installed on your computer. Steam is the biggest store for PC games. When you open Steam, it defaults to opening the Store page, so you can see all the new and recommended games and any sales immediately. You may not want Steam to open to the store page by default though. Thankfully, you can change the default page if you want to.
How to change which page opens when you open Steam
To configure which page opens when you open Steam, you need to open the Steam settings. To do so, click "Steam" in the top-left corner of the main Steam window, then click "Settings" in the drop-down menu.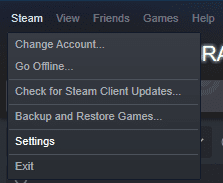 Once in Steam's settings, switch to the "Interface" tab. You can configure the default page with the second drop-down box. It has the ridiculously long heading "Select which Steam window appears when the program starts, and when you double-click the Notification Tray icon".
The pages you can choose from are: Store, Library, News, Friends, Friend Activity, Community Home, and Servers.
"Store" is the main Steam store page, this option is recommended if you prefer to browse for new games every time you open Steam. "Library" is the list of your games, this option is recommended if you prefer to be able to easily launch your favourite games straight away. "News" is a feed of updates from Valve, primarily about Steam. "Friends" opens the smaller friends window. "Friend Activity" opens the Friend Activity page, which covers recent events from your friends and subscribed games and communities. "Community Home" opens the Community Activity page which is the hub for all Steam community and official content. "Servers" opens a server list for a range of supported games.
Once you've chosen your preferred default Steam page, click "OK" to save the change.