Apps can give you all sorts of problems, and the Google Play app is not different. One of the errors that the Play Store app can give you is telling you to check your connection and try again. This error can be incredibly annoying when you need to install an app urgently.
Not all hope is lost since there are some helpful tips you can try to fix the issue. For example, if you use a VPN, try turning it off. When I have my VPN, I run into problems like the Google Play app not showing any pending app updates. So disabling it can make different issues go away.
What to Do When You Can't Connect to Google Play Store
It's always a good idea to start with some basic fixes. One of the basic fixes you can try is clearing the cache and data for Google Play. You can do this by going to: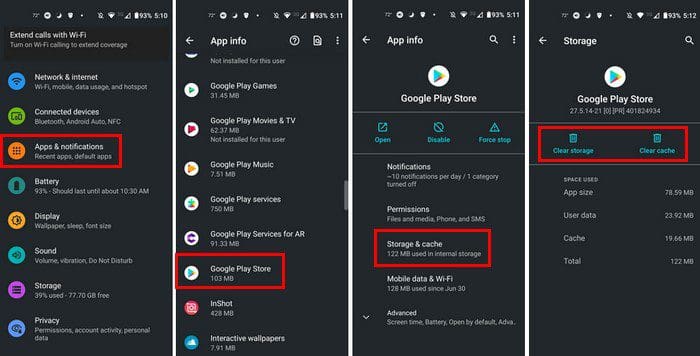 Settings
Apps and notifications
Finding the Google Play Store app in the app list
Storage and cache
Clear cache
Clear storage
Date and Time
It may not seem like a big deal, but you must have the correct time and date on your Android device. If you don't, this could cause problems for some apps. This could explain why the Google Play app is acting up. To change the time and date on your Android device, go to:
Settings
System
Date and Time
Turn on Use network-provided time and Use network-provided time zone
Erase and Re-Add Your Google Account
You can also remove and re-add your Google account. You can do this by going to:
Settings
Accounts
Find your Google account
Remove Account
To add your Google account, go to:
Settings
Account
Add account
Try Another DNS Server
Connecting to a Google Public DNS could make this issue finally go away. You can do this by going to:
Settings
Network and Internet
Tap on your Network
Tap on the cogwheel to the right of your network
Choose the Pencil icon
Advanced Options
Static from IP settings
Type 8.8.8.8 where it says DNS 1
Type 8.8.4.4 where it says DNS 2
Conclusion
You can also try connecting to Google's server by using another Google's apps. You can try using Google Maps, Google Keep, etc. This method is not a sure fix, but it's definitely worth a try. Also, sometimes a simple reboot of your device can do wonders, and it's something you usually do at the very end instead of the beginning. Which method do you think you're going to try first? Let me know in the comments below, and don't forget to share the article with others on social media.