Seeing the top-rated restaurants in Google Maps can be very helpful. You can see your options, but you can also see which restaurants are the most popular if you know where to look. If you end up liking the food can only be decided once you've eaten, but by visiting the most popular restaurant, there's a higher chance of it happening.
Not only can you see the most popular places, but Google Maps also lets you see which restaurants are open at a specific time. Not sure what places are open at midnight? By following these steps, you'll get all the information you need.
How to Find the Most Popular Restaurants in Your Area
With the help of Google Maps, you can find the top-rated restaurants in your area. You can also find the ones that are open at specific hours. Don't forget you can also use Maps to see if there are any traffic jams near the restaurant you want to visit. Once Google Maps is open, Tap on the Restaurants tab at the top. All the restaurants are marked with a fork and knife. To see all the restaurants in a list, tap on the View list option.
In the View List, you can see options such as directions, business hours, phone numbers, and you can also share the information. At the top, swipe left, and you can see which restaurants are open now, the top-rated ones and if you need more options, the more filters option.
To see which restaurants are open at a specific time, tap on the More filters options. To see this option, you'll need to swipe all the way to the right; it should be next to the Top-rated option.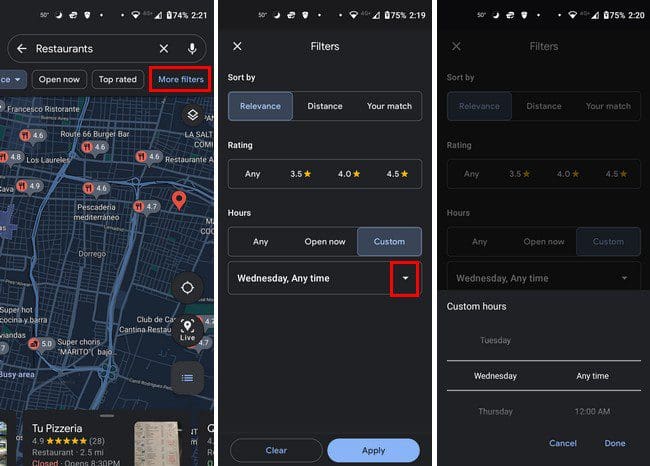 You can search for the restaurant by relevance, distance, or your match. There are options to also search by rating and hours. To set your own time, tap on the Custom option. A dropdown menu will appear. Tap on it and swipe up and down to set a specific day and time. Once you've made your choice, don't forget to tap on the Apply button. If you want to see the restaurant's area, you'll also see a small window where you can do that'll enable Street View.
Google Maps can also show you the places that are only restaurants, bars, coffee shops, takeout, and delivery. To get here, you'll need to go back to the main page and swipe left in the area where the Restaurants option is. Tap on More options, and under food and drink, choose from the options. Choose the options of your interest, and then you can see the options on the map or list.
That's all there is to it. By following the steps mentioned here, you can find the perfect place to eat.
Conclusion
Google Maps can be of great help when you need directions to get somewhere. But, you can also count on it to give you some of the best restaurant suggestions in your area. Looking for a place that only does delivery? You can also find that. So next time you want to know your options when it comes to dining, even if it's in an area you're not familiar with, just turn to Google Maps.