YouTube uses very complex and efficient algorithms that keep you hooked in front of your screen for hours on end. Initially, you may go to YouTube to watch a video a friend of yours said you should see, but you often end up watching ten more videos. There are also moments when you'd like to watch a specific video again but you don't know what to type in the search bar.
And so, you click on More Options, then History, and start scrolling down your watch history. The only problem is that sometimes YouTube fails to update your watch history. Let's explore how you can fix this issue.
Why Is My YouTube Watch History Not Updating?
⇒ Quick Note: Check if this is a known problem. As a matter of fact, this appears to be a recurring glitch. Check if other users have complained about the same issue recently.
Disable Pause Watch History
Check if you accidentally enabled the "Pause watch history" option. If you did, YouTube won't save your watch history. Moreover, your watch history won't show up in the YT app. Click on More options, select History, and click on Turn on Watch history.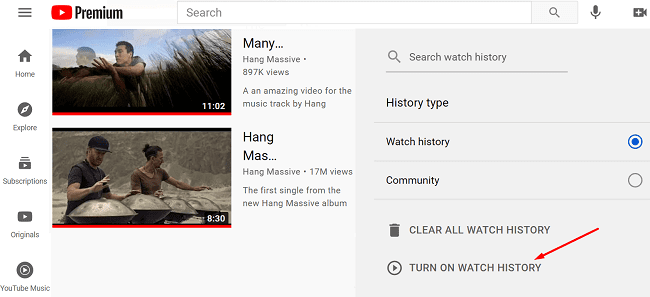 Refresh your browser tab or restart the YT app and check if your watch history is available now. If it's not, log out of your Google account, restart YouTube, log back in and try again. Alternatively, switch to a different account and check if the issue is gone.
Update Your App and Clear the Cache
If you're experiencing this problem on the YouTube app for Android, check for updates. Launch the Play Store app, search for YouTube, and hit the Update button.
Then, navigate to Settings, select Apps, and tap YouTube. Go to Storage and tap the Clear cache button.
If your YouTube history still won't show up, uninstall the app and restart your device. Then launch the Play Store app again and download YouTube. Check if installing a fresh copy of the app solved the problem.
If this issue is affecting your web app, clear your cache and disable your extensions. If you're using Chrome, use this step-by-step guide to clear your browsing cache. Restart your browser and check the results.
Disable Your Ad-Blocker
Some people fixed this problem by removing the YouTube ad-blocker they previously installed on their browser or phone. Ad-blockers and privacy extensions are known to interfere with the scripts of the web pages you're visiting. For example, ad-blockers can block the URLs that YouTube uses for history tracking (s.youtube.com, and video-stats.l.google.com). Whitelist these URLs or disable your ad-blockers and check the results.
Additional Solutions
Disable any software solutions that might be interfering with your YouTube connection. For instance, disable your antivirus, firewall, VPN, IP hiding tools, and so on. Re-launch YouTube and check the results.
Check your Internet connection. Restart your router if you're on PC. If you're on Android, disable cellular data, and enable Airplane Mode for one minute. Then go back online or switch to a different connection.
Conclusion
If YouTube won't save your watch history, log out of your Google account, restart your YT app or refresh your browser tab, and log back in. If you're using an ad-blocker, disable it and check if the issue is gone. Many users confirmed ad-blockers often block YouTube's history tracking URLs. Did you manage to troubleshoot this problem and get your watch history back? Let us know in the comments below.