Many Skype users complained the app doesn't ring on incoming calls. In other words, the app does not audibly ring when they get a call from someone. However, the call appears in the UI it's just that there's no ring sound. If you're not in front of your device, you can miss important calls. Let's see what you can do to troubleshoot this issue.
How to Fix Skype Not Ringing on Incoming Calls
Check Your Audio Settings
First things first, you need to check your Skype audio settings. Ensure the speakers' volume is audible and the incoming call ring sound is not muted.
Then click on Calling and check if only calls from contacts are allowed to ring on your device. Toggle off the option.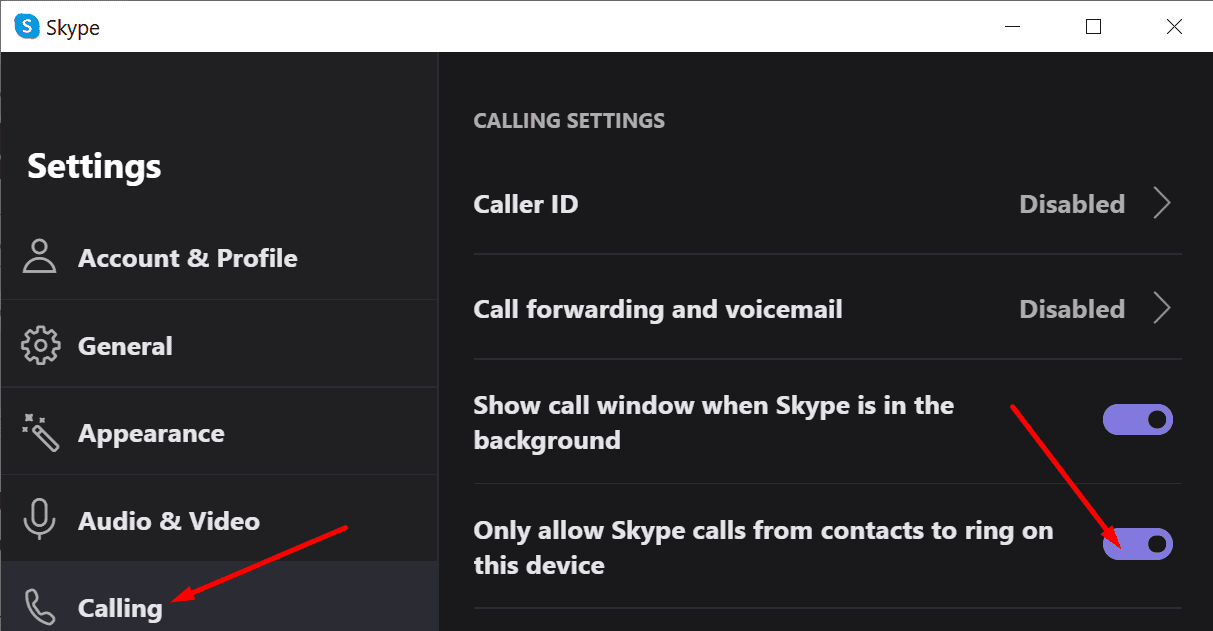 After you made sure the audio level in Skype is OK, check your computer's audio settings. Click on the Speakers icon and slide the audio volume slider to 100.
Then right-click on the Speakers icon and select Open Volume Mixer. Ensure the applications and system sounds are audible. For example, if the Applications' volume slider is set to zero, there will be no sound coming from your apps to your speakers.
By the way, if your Skype status is set to "Do Not Disturb" set it to Available and check if the app rings audibly now.
Run the Audio Troubleshooter
Next, go to Settings, select System, and click on Sound. Under Master volume, click on the Troubleshoot button. Run the troubleshooter and follow the suggestions listed on the screen.
Alternatively, you can also launch the troubleshooter from Settings → Update & Security → Troubleshoot → Playing Audio.
Next on the list, check your Focus Assist settings. If you set up Focus Assist to hide all notifications, except for alarms, Skype won't ring when you get a new call.
Enable the Priority only option.
Then click on Customize your priority list.
Add Skype to the list so that the app rings on incoming calls even if Focus Assist is on.
After that, scroll down to Automatic rules and check your settings.
Update the App
Get the latest Skype app version on your computer. If your current app version is affected by known audio bugs, maybe Microsoft already fixed the problem in the latest release. Click on your update notification and install the newest Skype version.
Reinstall Skype
If Skype still won't ring on incoming calls, uninstall and reinstall the app. Go to Control Panel, and select Uninstall a program. Then click on Skype and select the Uninstall option.
After that, you can restart your computer and download Skype again.
Conclusion
If Skype doesn't ring on incoming calls, most likely, this issue stems from your app or computer audio settings. Ensure the audio volume is audible, and check your Skype status and Focus Assist settings.
By the way, Skype not receiving incoming calls is a totally different matter. But we got a troubleshooting guide ready for you in case you're experiencing this problem. For more information, see Fix Skype: Can't Receive Incoming Calls on PC.
We hope this guide helped you to fix this issue. Do let us know if the app rings on incoming calls now.