PowerPoint may sometimes close unexpectedly when your computer goes into Sleep Mode. As a result, you may lose all your data if unsaved. Strangely enough, this problem doesn't seem to affect other Office apps. Let's explore what might be causing this issue and what you can do to solve the problem.
Why Does PowerPoint Keep Closing When My Computer Sleeps?
Check If Your PC Is Running Out of Memory
Before enabling Sleep Mode, open Task Manager and click on the Memory tab. Check how much memory you have left with all the apps running in the background. If your apps are taking up more than 85 percent of available memory, close memory-hogging processes before entering Sleep Mode.
For example, Google Chrome is notorious for eating up your computer's memory. The more tabs you open, the more memory the browser eats up. Close Chrome, save your PowerPoint data in case anything goes wrong, and then enable Sleep mode. Check if PowerPoint still closes when your machine goes into Sleep mode.
Set PowerPoint to Autosave
To avoid losing your data, set PowerPoint to AutoSave. Click on the File menu, select Options, and click on Save. Set the autosave time to 5 minutes. If you have large files, you may want to set the Autosave to a different interval.
Alternatively, you can set your computer to not go to sleep after 5 minutes or completely disable Sleep mode. Go to Settings, select System, and click on Power & Battery. Scroll down to Screen and sleep and tweak your settings.
You can also run the Power troubleshooter to automatically detect and solve power-related issues.
Enable Hybrid Sleep
Hybrid Sleep stores apps and processes on your hard disk instead of RAM. This feature is primarily designed for desktop computers and puts your machine into a combination of Sleep and Hibernate. Basically, your computer goes into a low-power state, allowing you to quickly pick up where you left off when waking the machine up from sleep.
By default, Hybrid Sleep is disabled on laptops. Follow the steps below to enable the option.
Go to Control Panel.
Select Hardware and Sound.
Click on Power Options.
Then select Change plan settings.
Click on Change advanced power settings.
Click on the plus sign next to sleep.
Set Allow hybrid sleep to on.
Next, navigate to Hibernate after.
Set the option to 1000 minutes to disable it.
Save the changes and check if PowerPoint still closes when your computer goes into Sleep mode.
Update and Repair Office
Open PowerPoint or any Office app, and click on the File menu.
Select Account, and then click on Update options.
Select Update Now.
Wait until your computer installs the latest Office updates.
Open PowerPoint, enable Sleep mode and check if the issue persists.
If it does, go to Control Panel, select Programs, and go to Programs and Features. Select Office, hit the Change button, and run the Online Repair tool.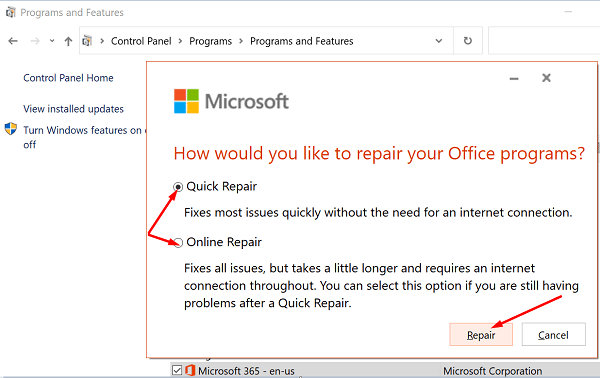 If the problem persists, contact Microsoft Support.
Conclusion
If PowerPoint closes unexpectedly when your computer goes into Sleep mode, close memory-hogging processes. Then, go to PowerPoint settings, and enable Autosave. Additionally, enable Hybrid Sleep, and then update and repair your Office installation files.
Is PowerPoint still closing every time your laptop does into Sleep mode? Let us know in the comments below.