If your Wi-Fi connection is not available, the quickest way to go back online is to use a mobile hotspot. Unfortunately, many Chromebook users complained their laptops won't connect to mobile hotspots. The device can successfully detect the available connections, but users are unable to go online. Let's explore how you can quickly troubleshoot this problem.
Why Is My Chromebook Not Connecting to My Mobile Hotspot?
Restart Your Chromebook
First things first, restart your Chromebook, and phone and check if the issue is gone. Make sure your SIM is activated properly. Check if other devices can connect to your mobile hotspot.
As a quick reminder, if your Chromebook is managed by an organization, your IT admin may have blocked mobile hotspot connections. Contact your admin for additional details.
Set Up the Connection Again
Set up the connection between your Chromebook and your mobile terminal again and check the results.
Click the time icon on your Chromebook and select Settings.
Then go to Connected devices, locate your Android phone and select the Setup option.
Follow the on-screen steps to properly set up the connection.
When the connection is ready to use, you should also receive a confirmation on your phone.
Go back to your Chromebook, and under Enabled, select the mobile hotspot feature.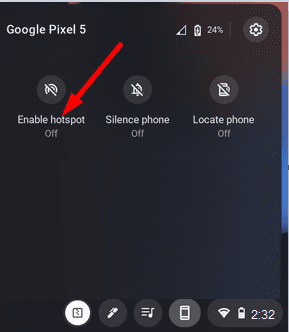 Update ChromeOS
Make sure you're running the latest ChromeOS version on your machine. Click on the Time indicator and select Settings. Then, click on About ChromeOS and check for updates. Install the updates, restart your laptop and check if you can connect to your mobile hotspot now.
Disable Preferred Networks
Your preferred network settings may prevent your Chromebook from connecting to a mobile hotspot. This is because the computer prioritizes preferred Wi-Fi networks over other available networks. Go to Wi-Fi settings, locate the Known networks section and remove your preferred networks. Then check if your ChromeOS laptop can connect to your mobile hotspot.
Contact Your Carrier
If the problem persists, contact your carrier for further help. If you need to tweak specific connection settings, your carrier's support team will be able to help you out.
Conclusion
If your Chromebook is unable to connect to a mobile hotspot, restart your devices. Then try to set up the connection again. Additionally, make sure you're running the latest ChromeOS version and remove preferred networks. If the issue persists, contact your IT admin or carrier. Did you find other ways to troubleshoot mobile hotspot connection issues on Chromebook? Let us know in the comments below.