You can easily connect your Chromebook to your TV wirelessly or with the help of a standard HDMI cable. If you prefer the wireless option, you need to connect an Android TV box or a Google Chromecast device to your TV's HDMI port.
So far, so good. The only major problem arises when you set everything up, but your Chromebook won't cast to TV. Sometimes, the screen freezes and goes black, or you get a strange "No device found" error. Follow the troubleshooting steps below to solve this annoying problem.
What to Do If Chromebook Fails to Cast to TV
Use a Different HDMI Cable and Port
Visually inspect your devices and make sure the HDMI cable is not frayed or damaged. Check the ports as well and ensure they don't show signs of oxidation or other problems. Use a different cable and switch to a different port. Check if you notice any improvements.
Additionally, try casting from another user account on the same ChromeOS laptop. Check if the issue persists. Maybe this glitch has something to do with your current user profile.
Check Your Network
Use a different network. Connect your devices to another network, if possible. Additionally, unplug your router, and leave it unplugged for one minute. Then power up your network device; make sure to plug it directly into a wall outlet. Check if you notice any improvements.
Place Your Devices Close Together
If you're using a wireless connection, your Chromebook and TV should be within 15 feet (roughly 4 meters) from each other. Ideally, your Chromecast device, laptop, TV, and router should all be in the same room. Additionally, disconnect other devices using the same network connection to reduce competition for bandwidth.
Disable AP Isolation
Suppose you have an AP (Access Point) or extender. In that case, you need to disable AP isolation on your Wi-Fi extender before setting up Chromecast on your wireless network. As a quick reminder, if your router has AP isolation enabled, it's going to treat the 2.4GHz and 5GHz Wi-Fi as separate networks. All of your devices need to be on the same network for you to be able to cast from Chromebook to TV.
Use the following router settings to set up Chromecast:
Use the 2.4 GHz Wi-Fi band.
Enable Universal Plug and Play (UPnP), multicast, and Internet Group Management Protocol (IGMP).
Disable AP isolation, VPN, and proxy servers.
If you're using BT Hub, disable the Smart Setup feature in your router settings. Then reset your Chromecast.
Update Your OS and Browser
Update ChromeOS and Google Chrome to the latest version. Restart your Chromebook and TV, and try again.
Navigate to Chromebook Settings, select About ChromeOS, and then hit the Check for updates button to update ChromeOS.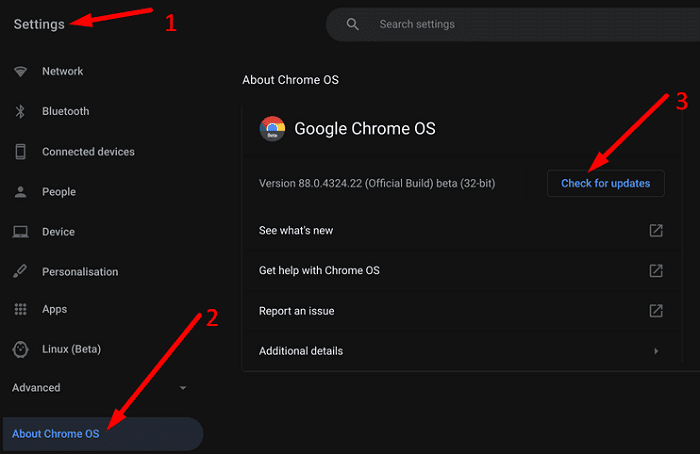 To update your browser, go to Help, select About Google Chrome, and check for updates.
Restart the Media Router Features
Open a new browser tab and enter chrome://flags/#media-router. Locate the Media Router features and enable them. If the features are already enabled, turn them off and restart your browser. Then enable Media Router again and check the results.
If your Chromebook still doesn't cast to TV, factory reset your TV and power wash on your Chromebook.
Conclusion
If you can't cast anything from Chromebook to TV, use a different HDMI cable and port. Then check your network: unplug your router, disable AP isolation, and make sure all your devices are on the same network. If the issue persists, restart the Media Router features.
Did you manage to fix the problem? Which of the solutions above worked for you? Let us know in the comments below.