A simple action such as typing on your keyboard may turn into a nightmare on ChromeOS. Sometimes, your Chromebook won't let you type anything. On other occasions, your keyboard may type random characters. Well, if your keyboard is unusable, try restarting your Chromebook a few times. If the issue persists, pursue the troubleshooting steps below.
What to Do if Chromebook Won't Let You Type
Log in as a Guest User
Try signing in as a guest and check if your keyboard works properly. If you're already signed in to your account, click on the Browse as Guest option located at the bottom of the screen.

If you don't see "Browser as Guest", this means the option has been turned off. Follow the steps below to enable guest browsing on Chromebook.
Sign in to your admin account.
Click on the time icon and go to Settings.
Go to Security and Privacy.
Click on Manage other people.
Toggle on Enable Guest browsing.
⇒ Important Note: If your Chromebook is managed by an organization (work or school), you won't be able to change the guest browsing settings. Contact your IT admin for further help.
If your keyboard works as it should on a guest profile, then most likely your current admin account got corrupted. Delete the problematic account and then add it again.
Reset Your Chromebook Hardware
Hard reset your Chromebook and check if this solution does the trick for you.
Turn off your Chromebook, and wait for 30 seconds. Then press and hold the Refresh, and Power keys. Wait until your laptop starts up, and then release the Refresh key.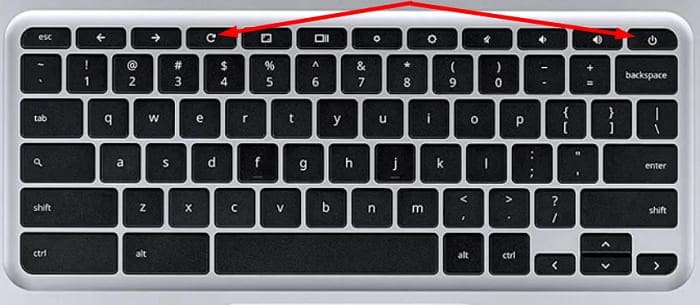 You can also take out the battery, put it back in, and check if you notice any improvements.
Factory Reset Your Chromebook
If you still can't use your keyboard, reset your Chromebook to factory settings, aka powerwash it. Keep in mind that this action will wipe all the data stored on your device.
Log out of your Chromebook.
Then press and hold the Ctrl, Alt, Shift, and R keys.
Select Restart.
Then select Powerwash and hit Continue.
Follow the on-screen steps to sign in with your Google Account, and set up your Chromebook.
Check if you can use your keyboard after resetting the device.
Contact Your Chromebook Manufacturer
If none of these solutions work for you, contact your Chromebook manufacturer. Let them know what solutions you've tried so far. Hopefully, they'll be able to help you fix this annoying issue once and for all.
Conclusion
If your Chromebook keyboard is unresponsive, restart your laptop, and log in as a guest user. Additionally, press the Refresh and Power keys to reset your Chromebook hardware. If the issue persists, powerwash your device and contact its manufacturer for further help. Did you manage to fix your keyboard with the help of this guide? Let us know in the comments below.