Ad-blockers can be a really helpful tool online. They're designed to prevent adverts from loading, which can provide a number of benefits. Firstly, page loading times are faster, because websites don't spend extra time loading complex ads that you don't want to see. Secondly, you save on your data allowances if you're on a limited data plan because the ads are prevented from downloading. Additionally, the webpages that you view are less cluttered by ads, that in some cases can take up significant portions of the screen.
Another benefit that an ad-blocker can provide is protection from malvertising. Malvertising is an abuse of the advertising networks to serve an advert containing malware. This sort of risk is present on any website that serves adverts, although it's not particularly common.
For a long time, ad-blockers were only available via extensions in desktop browsers. More recently, however, a range of mobile browsers have started building ad-blockers into the browser directly. Enabling the ad-blocker in the Edge browser on Android is pretty simple.
The first step to enable the ad-blocker in Edge is to get to the in-app settings. To access the settings, you need to tap the triple-dot icon in the centre of the bottom bar.
6Tap the triple-dot icon in the centre of the bottom bar to be able to access the settings.Next, tap the "Settings" icon in the top-right corner of the popup pane that opens.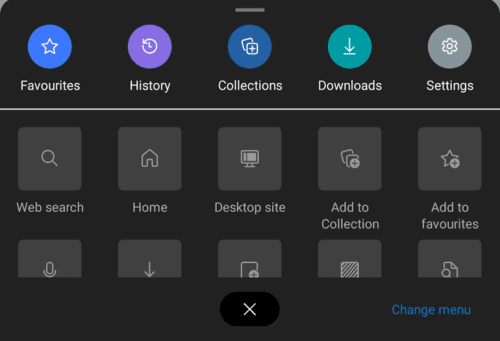 Tap on "Content blockers" which will be the seventh setting from the top, to manage the ad-blocker settings.
To enable the ad-blocker, tap the "Block ads" slider to the "On" position.
If you want to configure the ad-blocker settings, tap "Advanced settings". In the advanced settings, you can toggle the "Acceptable ads" setting and whitelist websites.
The acceptable ads programme is a process where the developers of AdBlock Plus, the adblocking extension built into Edge on Android, allow through some verified ads that meet certain criteria.
Whitelisting a website excludes it from adblocking. This can be useful if your adblocker is breaking a website. To add a website to the whitelist tap, "Whitelisted websites", then type the URL in the box. Tap the "+" icon to save the change.