Storage problems are something that everyone has to deal with sooner or later. Since not everyone has ample storage to save files, it's only natural that you want to know how much space specific files take up. So, if you want to check how much space Spotify songs are taking up on your device, keep reading to see what steps you can follow to check on your Android device and Windows computer.
How to Check How Much Space Spotify Songs Are Taking Up
You can see how much space your downloaded songs use without needing a third-party app since Spotify allows you to check by going to Settings on your Android device. You can use Spotify to see how much space they are taking up by tapping the cogwheel at the top right. This will take you to Settings.
Once in Settings, swipe down to the Storage area. You'll see four sections such as:
Other Apps
Downloads
Cache
Free
The Downloads option is how much space your Spotify songs are using.
How to Erase Downloaded Songs on Spotify for Android
If you went overboard downloading songs on Spotify, you can easily erase them by going to Settings (Cogwheel at the top right) and swiping down until you see the Remove all downloads option. Tap on it and confirm your choice. When you complete the process, check your Downloads storage, and you'll see how it's a lot less.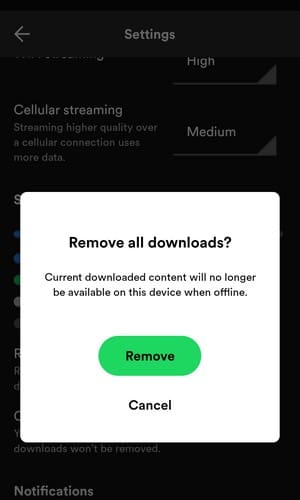 You can also remove all your downloaded songs on Spotify by tapping the download button again (for playlists). This time, it won't download anything; instead, it'll show you the option to remove all your downloads. Confirm your choice, and the music will be gone. Since the cache can also take up space, you can erase it by tapping the Clear cache option in Settings. Confirm your choice, and it's gone.
Check How Much Space Spotify Songs Take Up: Windows
You'll see the same information if you use Spotify on your Windows computer but in a different way. Once you open Spotify on your computer, click on your profile picture and go to Settings. Scroll down to the Storage section to see info for Downloads, Cache, and Offline storage location.
To erase all your downloads, click on Remove all downloads and confirm your choice. That's all there is to it. It's also a good idea to erase the cache since it takes up space.
How to Reduce the Quality of Your Downloads on Spotify
It's logical; the higher the download quality, the more space it takes up. If you know you'll need to download your music; it's best to reduce the quality. You can do this (on Android) by tapping on the cogwheel at the top right and going to Settings. Swipe down to Download and choose either low or normal quality.
To reduce the quality of the downloads on your Windows computer, click on your profile picture to go to Settings and scroll down to Audio Quality. Locate the Download option, click the dropdown menu, and choose normal or low. That's all there is to it.
How to Change the Download Location for Windows
If you need to change where your downloads are saved, you can do it by clicking on your profile and going to Settings, and scrolling down to the Storage area.
Choose your new location and click OK.
Conclusion
You can check how much storage space your downloaded songs are taking up by either using your computer or Android device. Erasing your downloads is also possible from both devices if you're running low on storage space. Did you have to erase your downloads, or did you only check the amount? Share your thoughts in the comments below, and remember to share the article with others on social media.