Facebook has a dating service similar to Tinder's called Facebook Dating. If you haven't found your soulmate yet, you can give Facebook Dating a try and let the digital Cupid find the right match for you. But maybe you don't want your friends to learn you're using Facebook Dating. Let's see how you can keep your dating profile private.
Can You Be Invisible on Facebook Dating?
The good news is that Facebook has already thought about that. Your dating profile is automatically hidden from your Facebook friends who are also using the dating app. In other words, you can't see their dating profile, and they can't see yours.
If you want to take this one step further, you can tweak your privacy settings and prevent Facebook from suggesting friends of your friends as potential matches.
Navigate to Settings, click on General, and go to Privacy.
Then turn off Suggest friends of friends.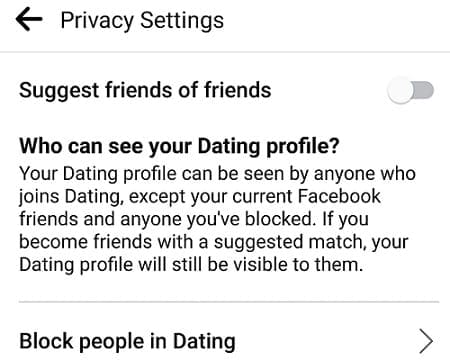 The Exception
Facebook Dating's Secret Crush feature lets you create a list of up to nine friends you have a crush on. The catch is that if they also add you to their crush list, they'll be able to see you're using Dating. It seems that's the only way your friends can find you on Facebook Dating.
Rest assured, your Facebook friends won't receive any notifications that you joined Dating. No dating-related information will appear on your News Feed. Your regular Facebook account and your Dating profile are two different things.
If you no longer wish to use Facebook Dating, you can delete your profile and keep your Facebook account active. To do that, go to Dating Settings, select General, and then Delete profile.
On the other hand, if you decide to delete your Facebook account, your Dating profile will automatically get deleted.
Conclusion
There are two ways your Facebook friends can learn you're using the Dating service: if you tell them, or they add you to their crush list. Otherwise, your dating profile is hidden from your Facebook friends.
Do you use Facebook Dating? Compared to other dating apps out there, why do you prefer Facebook's dating service? Let us know in the comments below.