If you own a computer that no longer meets your needs, you can upgrade its hardware components. For example, you can add more storage space, more RAM, and even get a better GPU. Of course, the alternative is buying a brand-new device. But if you own a Chromebook, things are a bit more complicated. Upgrading your ChromeOS laptop is not always possible.
Can I Add More Memory to a Chromebook?
Most Chromebooks can't be upgraded, which means that you can't add more RAM to your device. On most ChromeOS laptops, the RAM is soldered to the motherboard. In other words, there's no slot available to insert a new memory stick.
Why Do Chromebooks Have So Little RAM?
ChromeOS laptops have small hard drives and little memory to keep the cost down and encourage widespread use. The OS handles RAM differently and doesn't really need as much memory as other operating systems.
Most Chromebooks come equipped with 4GB of RAM, although you can purchase models that sport 8GB of RAM as well. One such example is the Samsung Galaxy Chromebook.
Compared to other Windows or macOS computers, 4GB of RAM is not at all impressive. But ChromeOS is much lighter than Windows or macOS. Additionally, the OS is based on the Linux kernel and uses RAM more efficiently.
What's the Secret?
Chrome OS keeps things snappy thanks to zRAM and double-wall low memory. zRAM is a compressed virtual memory that turns parts of your hard disk into RAM, allowing your laptop to do a lot more with less. The double-wall low memory automatically purges old tabs, data, apps, and processes that users haven't used in a while to free up memory.
For example, Google Chrome consumes RAM by boatload on Windows and Mac. But zRAM and the double-wall low memory keep the RAM glutton Chrome in check on ChromeOS.
Can a Chromebook Run out of Memory?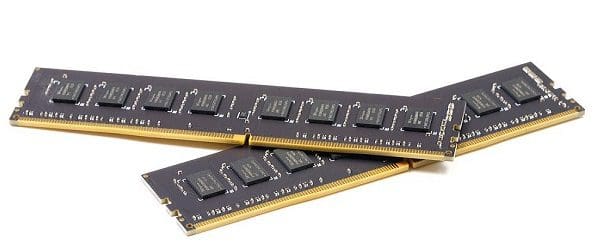 Chromebooks can run out of memory. This issue frequently affects low-end Chromebooks equipped with 2GB of RAM. When this issue occurs, apps become unresponsive, Chrome will show you the "Aw, snap" error, and so on.
Enable Swap Memory
To quickly fix this memory issue, you need to enable Swap memory using Crosh.
Press Ctrl, Alt, and T to open a Crosh tab.
Run the swap enable [insert size] command

Replace [insert size] with the swap you want to add. For example, if you want to add a swap of 2GB, enter swap enable 2000.

Restart your Chromebook.
To disable the swap memory, run the swap disable command.
How Much RAM Do I Need For Chromebook?
To answer this question, you actually need to answer two additional questions: "How long am I planning to use this Chromebook for?" and "Will I use it as my main machine or rather as a backup laptop?"
If you're planning to use your Chromebook for light browsing and social media for two to three years, go for a 4GB model. But if you're planning to use the device as your main laptop for school or work, go for a model equipped with 8GB of RAM.
Conclusion
Most Chromebooks have the RAM chip soldered to the motherboard, which means you can't add more memory to your device. Chromebooks generally come equipped with less RAM than regular Windows or macOS computers.
But ChromeOS doesn't actually need that much RAM because it uses memory more efficiently. For example, 4GB of RAM should be enough for most users. Should your Chromebook ever run out of memory, you can quickly enable Swap Memory using Crosh.
How much RAM does your Chromebook have? Have you ever experienced any memory-related issues? Tell us more about your experience in the comments below.