Do you want to know which is the best translation app for iPhone? Continue reading this blog to get a curated list of translator apps for iOS.
Language is an annoying communication barrier. However, in this era of communication, you can easily overcome it.
You only need the best translator app as an iPhone or iPad user. Such apps allow you to translate your native language into any other language and vice versa.
Best Translation Apps for iPhone/ iPad
1. Apple Translate
If you're looking for the best free translation app for iPhone, Apple Translate is here. This app comes with all iPhone and iPad devices for free.
Its interface is minimalistic, and you can type anything to translate into another language.
This app supports popular languages worldwide, including English, Chinese, French, German, Arabic, and Portuguese.
Moreover, you can speak any language instead of typing, and it'll capture it before translating.
You can also enable and disable features like language detection and animate translation. Bookmarking some translations as Favorites is also available.
2. Google Translate
Google Translate is a popular name in the world of translation. It's also one of the best translation apps for iPhone that can translate between 133 languages.
You can type in this app to translate into other languages or write using handwriting tools. It can even translate without an internet connection.
You can also use your iPhone camera to focus on an image, and the app will instantly translate the text in the image.
Moreover, it supports text translation from taken or shared photos. You can also mark the translations to save them in the Phrasebook for future use.
3. Microsoft Translator
Microsoft Translator is another best free translation apps for iPhone. This personal translation app can translate text, conversations, voice, photos, and screenshots in 70+ languages.
You can use it in offline mode as well. Its Phrasebooks feature is ideal for learning crucial phrases of a foreign language.
The app also lets you search for alternate translations to find the best way to express yourself.
You can also take help from the app to learn how to pronounce a translated phrase. Furthermore, users can pin and save their most frequent translations.
4. iTranslate Translator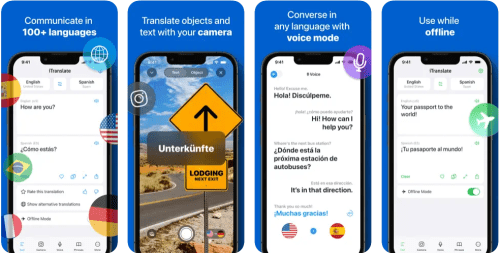 iTranslate Translator is a translation and dictionary app for iPhone. You can translate text and websites in 100+ languages. Also, it supports voice-to-voice conversations with its instant translation.
While traveling abroad, you can utilize its Offline Mode to spare yourself from paying roaming or expensive internet charges.
It comes with dictionaries, a thesaurus, and a Phrasebook where you can find more than 250 predefined phrases.
Switch to its AR mode to get real-time object translation. This free app comes with in-app purchases that start at $4.99.
5. Speak & Translate
Speak & Translate is one of the best translator apps for iPhone that you can use for voice and text translation.
You can choose between male and female voices that read the translated copy and determine the voice speed.
Automatic language detection, color themes, and iCloud integration are additional features of this app. It's free, but you can make in-app purchases as well.
6. Translate Now
Translate Now is the best FaceTime translation app for iPhone and iPad. It comes with the Shareplay feature that can seamlessly translate your FaceTime calls into 110 languages.
You can also enter a text and let the app translate it in text or audio format. It also offers an Offline Phrasebook where you can save custom phrases of different languages for offline use.
Dark mode, multiple windows, and Apple Watch support are other notable features of this app.
7. Voice Translator App.
Looking for an app that can do real-time voice and text translation? Voice Translator App. can do the job for you. It brings you 100+ languages in your pocket that you can access with an iPhone.
It can also perform camera translation instantly. For text-to-text mode, the app can automatically detect the source language.
It also offers typing hints, audio of translated phrases, an extended offline phrasebook, and single-tap translation sharing. This free app also comes with in-app purchases.
8. Camera Translator: Translate +
Imagine you went abroad and came across a road sign with something written on it in a language you don't know. In that case, you won't be able to type or speak what it says in your translator app.
But, if you have the Camera Translator: Translate + app on your iPhone, you can take a photo of that sign and get it translated. It supports 100+ languages and lets you copy the translated content for use in other apps.
It supports PNG, JPG, and other popular image formats for detecting and translating. The app is free to download, and you can subscribe to it through paid plans.
9. SayHi Translate
SayHi Translate is the best free translator app for iPhone that you can download from the App Store. It's 100% free and contains no ad or premium features.
On this translation app, you can instantly speak any language and have its translated version. However, your iPhone should have an internet connection for this app to function.
It also supports dynamic text and allows you to type for translation. Changing languages and speech speed are also possible with this app.
Moreover, you can copy and share the translation via email, SMS, and social media.
10. Translator*
Translator* is an all-in-one translator that supports translating voice, image text, and typed text. You can even chat in 100 different languages directly from this app. Hence, it's found a place in the list of one of the best translation apps for iPhone.
With its Object mode, you can take a photo of anything, and this app will tell you what it's called in any given language.
You can listen to a translation in a male or female voice. Switching between different dialects of a language is also possible.
This isn't the best free translator app for iPhone as you need to purchase its premium subscription.
Best Translation Apps for iPhone: Final Words
You may need to use the best translation app for iPhone for various reasons. It could be business communication, or you want to communicate with a friend who doesn't speak your language.
Apart from these, translator apps for iPhone are helpful when you want to help a foreigner by understanding their language.
Choose from any of the best translator apps for iPhone to overcome the language barrier.
Tell us in the comments how these translator apps help you succeed professionally and personally.
You might also want to know about the planner apps for iPhone.