Smart Stack widget shows you information from your most-used iPhone or iPad apps in the right place at the right time by using the iOS AI feature.
iOS widgets show you quick information from your favorite apps like the weather app, stock app, sports app, calendar app, etc. However, so many widgets on your iPhone or iPad screen might give a clutter-like feeling.
Declutter your iPhone/iPad screen by adding a Smart Stack widget. Don't know what is it and how to add a smart stack? No worries! Below, I'll explain everything you need to know about the latest Smart Stack widget.
What Is the iOS Smart Stack Widget?
Apple introduced the Smart Stack feature in iOS 14. Smart Stack is an intelligent collection of iOS app widgets. Your iOS device can automatically stack up to 10 widgets from your favorite apps.
It saves screen space on your iPhone or iPad by stacking up to 10 widgets. However, it can only host and stack widgets of similar sizes.
How Does Apple Smart Stack Work?
The best thing about Smart Stack's working principle is the artificial intelligence (AI) based automation of the Smart Stack widgets. When you use a specific app in a particular location and time habitually, iOS notices this pattern.
When you repeat this for a few days, iOS considers this your habit. Then, in the exact location and time, the Smart Stack will rotate the widget to the front automatically.
For example, look at the following:
Smart Stack showing the weather update in the morning
Displaying the planner app data in the office
Offering your alarms just before you go to bed
That's not all! Throughout the day, the Smart Stack widget will also show information and views from other app widgets depending on the time and location.
Can You Edit Smart Stack on iPhone?
Yes! You can edit the widgets that show up on Smart Stack. If iOS shows an irrelevant widget, you can remove it and replace it with another. Moreover, you can add a custom Smart Stack widget.
How to Create a Smart Stack Widget
Creating a Smart Stack or a collection of useful app widgets is super easy. Follow these steps, and you're there:
Long press on any blank space on your iPhone or iPad. All the apps and widgets will jiggle.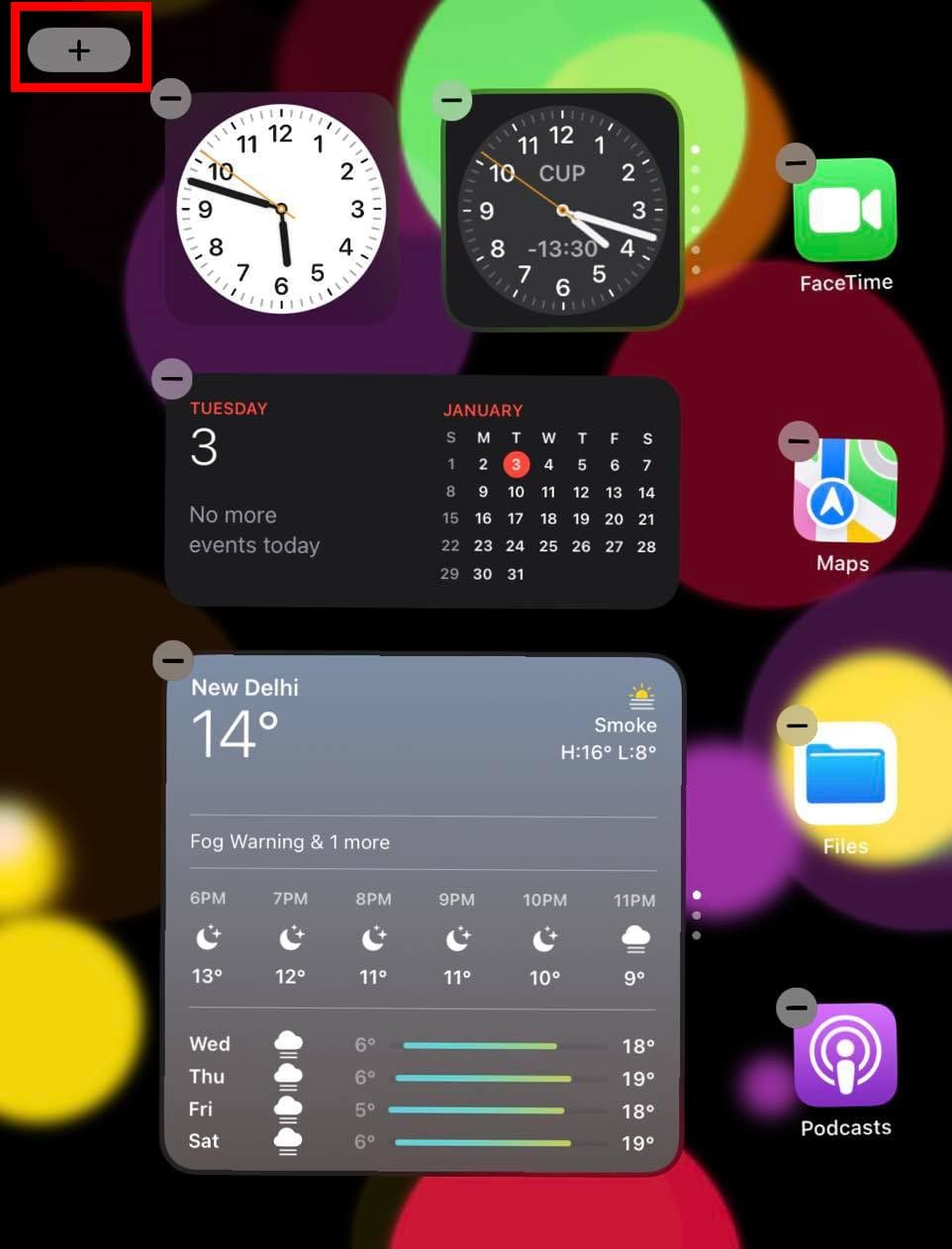 Tap the plus (+) icon found in the top-right corner.
Tap Smart Stack.
You'll see different sizes of available widgets for the Smart Stack.
Swipe left or right to choose between tiny, small, medium, and large Smart Stack widgets.
Select the one you like by pressing Add Widget.
A widget stack will show up on the home screen.
It'll first show the widget that's on top of the list.
You can swipe up or down within the widget stack to view information from other widgets.
How Do I Add Apps to My Smart Stack Widget?
Apple is yet to offer the option to add apps to your Smart Stack widget. However, you can add app widgets of similar size anytime you want.
How to Add Widgets to Smart Stack
Though the iOS itself populates the default Smart Stack widget, you can learn how to edit the Smart Stack list if you want to remove any app widget or add a new one. Here's how it's done:
Long press the Smart Stack.
A context menu will appear below or above the Smart Stack.
Tap Edit Stack.
When the Smart Stack jiggles, scroll up or down to find the widget and then tap the subtraction sign (-) to delete it.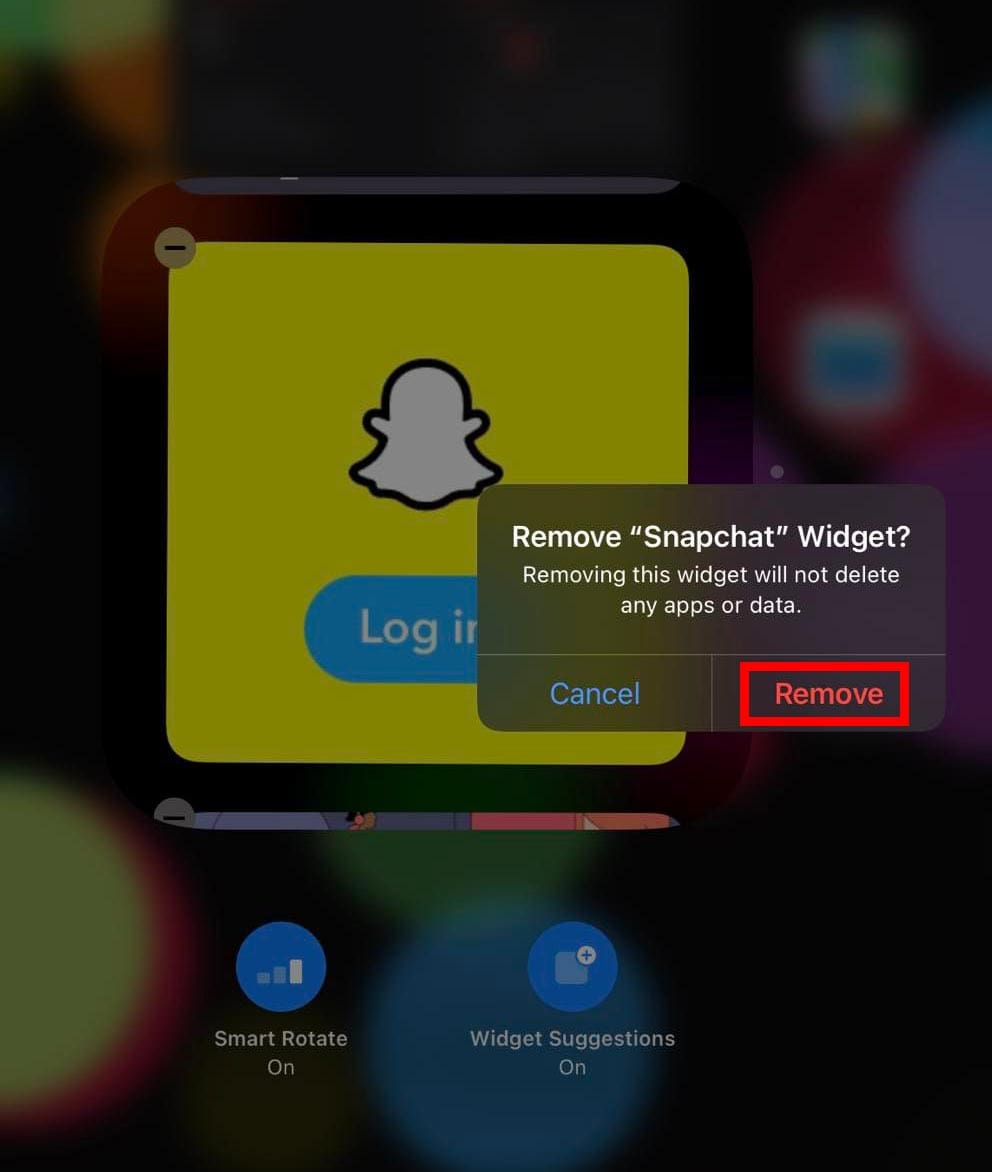 To add a widget to Smart Stack, tap the plus (+) icon in the top-left corner.
A widget search box will pop up with suggestions for compatible widgets.
Tap any widget and then select Add Widget.
Once the new widget is inside the Smart Stack, tap on any blank space to save the changes.
Smart Stack Hidden Features
You can control whether you want iOS to rotate the widgets on the Smart Stack automatically. Here's how:
Long press on the Smart Stack widget.
Tap Edit Stack.
Now toggle off the Smart Rotate and Widget Suggestions features.
How about activating the AI-based automation on Smart Stack? Just follow the abo steps to reach the Edit Stack screen. Then toggle on the features that you've just turned off.
Create Your Smart Stack Apps (Widget) Collection
Another exciting thing about the Smart Stack widget feature is you can create as many Smart Stacks as you want. You can also fill those widget stacks with widgets from your preferred apps.
Add a few widgets of the same size on your iPhone or iPad home screen. Now long press on a widget, drag it and place it on another widget.
iOS will create a widget stack. Now, add more widgets of similar size to this new stack. Once done, activate Widget Suggestions and Smart Rotate from the Edit Stack screen.
Smart Stack: iOS 14 Vs. iOS 15 and Later
Apple made a few improvements to the Smart Stack feature since its launch in the iOS 14 operating system. The most important update is the Widget Suggestions. You won't find it on iOS 14 but only on iOS 15 and later.
Widget Suggestions automatically display app widgets on the Smart Stack, depending on your last interaction with the app. The iOS AI considers the frequency of app usage and usage at a specific time of the day.
How Do I Turn Off Smart Stack?
As mentioned above, you can turn off the Smart Stack features from the Edit Stack screen.
You can also delete the Smart Stack widgets from all the home screens of your iPhone or iPad by following these steps:
Long press on any Smart Stack you want to remove.
Tap Remove Stack.
Tap Remove to confirm the deletion of the widget stack.
Conclusion
Now you know how to utilize the latest iOS features, Smart Stack, for convenient widget management.
Don't forget to leave comments below if you know other tricks and tips for the Home Screen of iPhone and iPad.
Next up, customize and add Telegram app widgets.