Want to have a faster way of accessing Gmail while using Telegram? Unlike WhatsApp, Telegram has a bot you can use to use Gmail as you would on the app, but without leaving Telegram.
Using Gmail through Telegram is definitely a time saver, and a trick not many users may be aware of. The design may not be as lovely as when using the Gmail app, but it's a useful tool whenever you're in a hurry.
How to Set Up the Gmail Bot in Telegram
Once you have Telegram open, tap on the search icon at the top right, and type Gmail bot. It should appear as soon as you finish typing the word Gmail.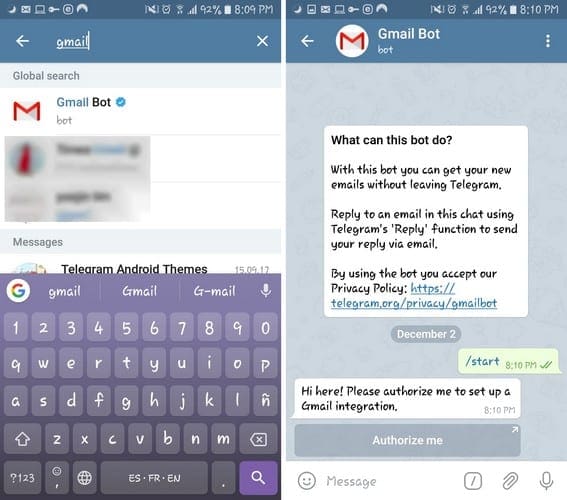 After selecting the bot, you'll see a message from the bot explaining what you can do with the bot. Before you start using the bot, you'll need to grant it access to your Gmail account.
To do that, sign in to the account you want to add, and as soon as the process is complete, you'll get a message from Telegram letting you know you're done.
How to Send Gmail Emails Through Telegram
To send your first Gmail Email through Telegram tap on the forward-slash and a set of options will appear. For example, you'll see options to:
/Start – Authorise the bot
/new – Compose new Email
/settings – Tune notification settings
/stop – Disable Email notifications
Since what you want to do is send an email, tap on the new option to see contact suggestions. Tap on the contact you want to send the email to, and when it's added, swipe down and tap on the parts of the email you haven't added.
For example, tap on the subject option to add that or the message option tp type your message. Once the bot detects that everything has been completed, it will show you the option to send the Email. Tap on the send button, and you're good to go.
When sending an email, you'll also see options to attach a file that can only be as big as 21MB. There are also options for Cc and Bcc when composing an email.
How to Deal With Incoming Emails
When you get an email, you will be notified with a Telegram notification as well (besides the Gmail one). To see your email, open the Gmail bot conversation, and at the bottom of each email, you'll see various options on what you can do with that Email.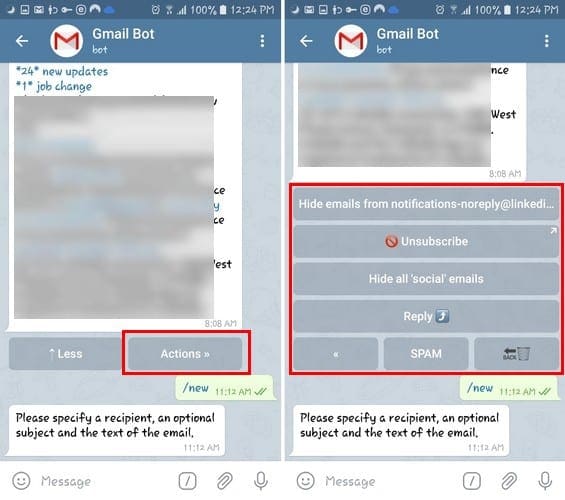 For example, you'll be able to:
Hide email notifications from the sender
Unsubscribe from that email
Hide all social emails
Reply
Mark as Spam
Trash
If you don't see these options below each email, tap on the Action button to reveal them.
How to Blacklist/Whitelist Emails
There are always emails you're not going to want to get. It's also possible to blacklist the ones you don't wish to and whitelist the ones you do want.
To do that type /settings and you'll see a list of labels you can blacklist. When you tap on the label, a wrong-way symbol will appear to the left of it, indicating it has been marked.
As long as you're in settings, you can do other things such as remove or add the email signature the bot creates, confirmations on reply, and ask on response.
Conclusion
The Gmail bot in Telegram is a great way to send and receive email without leaving the messaging service. Do you think you'll be using it very often? Let me know in the comments below.