Adobe Acrobat is the right tool to use when it comes to viewing, editing, sharing, and printing PDF files. It has a long list of features and options that can satisfy the needs of both beginner and advanced users. The only problem is when the tool fails to work as expected.
One of the most frequent errors Adobe Acrobat users may get is this one: "Your request could not be completed. Adobe Acrobat license has either expired or not been activated". But you know there's nothing wrong with your license. The program worked perfectly fine up until a few moments ago. Let's jump right in and explore how you can fix this issue.
What to Do If Adobe Says the License Has Expired or It's Not Activated
Disable the AcroTray Process
Many users confirmed that disabling the AcroTray process helped them fix the problem. As a quick reminder, acrotray.exe is the Adobe Acrobat Distiller Helper application that the product uses to convert regular files into PDF files.
So, launch the Task Manager, click on the Processes tab and locate the AcroTray process. Right-click on it and select End task. Check if the error is gone.
Update Adobe Acrobat, Log out, and Rename the SLStore Folder
Make sure you're running the latest Adobe Acrobat version on your computer. Launch the program, click on the Help menu, and select Check for updates. Then log out of your account, restart the program, log back in and check if this method solved the problem.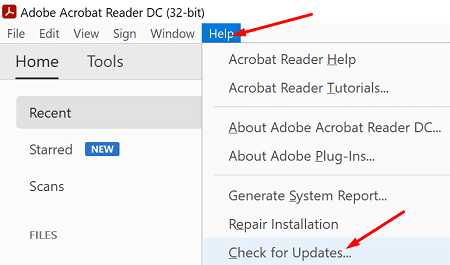 If the error persists, navigate to C:\ProgramData\Adobe and locate the SLStore folder. Right-click on it and rename it to SLStore_old.
By the way, if you can't find the ProgramData folder, click on View and unhide hidden programs.
Reinstall Adobe Acrobat
If the issue persists, uninstall Adobe Acrobat, restart your computer and reinstall the program. If your computer lost its Adobe license, reinstalling the program should fix the issue.
Go to Control Panel, click on Uninstall a program, and select Adobe Acrobat.
Hit the Uninstall button and reboot your machine.
Then go to Adobe's official webpage and download Acrobat.
Install the program and check if this method solved the problem.
Contact Adobe Support
If nothing's working, contact Adobe's support team for further help. Maybe there's been an issue with your payment that could be causing trouble activating your subscription. If this is not a billing problem, you'll get routed to the technical support team.
Conclusion
If your Adobe Acrobat license expired or it's not activated, check for updates and log out of your account. Restart the program, log back in and disable the AcroTray process in the Task Manager. If the problem persists, uninstall and reinstall Adobe Acrobat.
We hope these solutions helped you fix the problem. Hit the comments below and let us know if you managed to fix the error.