There are various benefits to using spreadsheets. You can do things such as use formulas, built-in calculations, and other functions. You can organize first and last names. Then there is the option of using basic and advanced data modeling. When you think of spreadsheets, the first word that may come to mind is Excel from Microsoft. But, there are other options.
Free and Useful Spreadsheets Android Apps
The following options give you the spreadsheet layout you need to organize things. There will also be templates you can choose from, so you can save yourself some valuable time. All the apps on the list are free, but you'll need to upgrade to Pro to use all the provided features. You can always try the following option if one is not what you're looking for.
1. Polaris Office
An option that's been around for a while is Polaris Office. The spreadsheet supports Excel file types. You can use things such as graphs and other features you would use on Excel. There is a free and Pro version. If you want to see what the Pro version offers, tap on the crown icon at the top right.
Tap on the plus button at the bottom right and choose from different types of files. You can choose from options such as:
Since we're covering spreadsheets in this article, we'll use that option this time. There are various spreadsheets to choose from. You can start off with a blank one or other options such as:
Bay Care Record
Health
Budget planner 1
Budget planner 2
Chart
Loan Calculator
Report
2. AndrOpen Office
Another option that might interest you is AndrOpen Office. This app is also free with the option to upgrade. You can buy a permanent license for $12.99, which buys you no ads, Access to cloud storage, and other useful functions. Besides the spreadsheet option, you can use different files such as:
Text Document
Presentation
Drawing
Formula
Templates
There is a great mouse feature where you drag your finger to a particular screen area and use the mouse like on a computer. With this app, you can also import spreadsheets from Microsoft Excel if you ever need to do that. You also have the option to upload your file to the color, but you'll need to upgrade for that.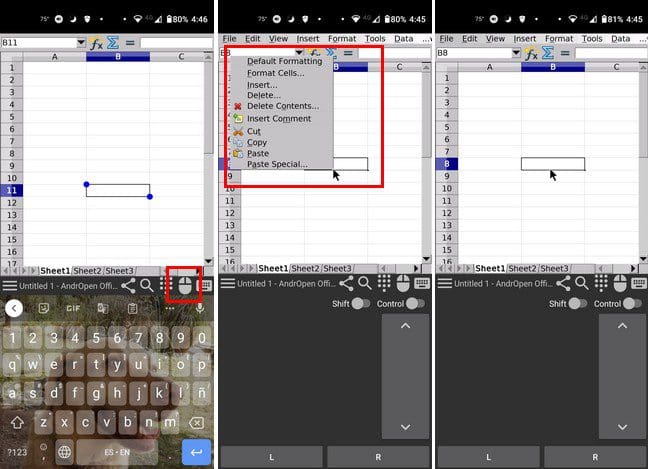 3. Docs To Go Office Suite
Docs To Go Office Suite offers already created spreadsheets you can use. Using those saves you a lot of work since the things you may need to change are minimal. You can move around the app by using the tabs at the bottom. You'll see the phone, cloud, desktop, recent, and starred tabs.
At the top, you'll also see different types of files. Make sure you're on the All option to see all your options. You can choose from file types such as:
You can also choose the file type you want to create by tapping on the plus symbol at the top right. You can choose from Word, Excel, and PowerPoint.
4. Google Sheets
An option that had to be on the list is Google Sheets. You may already have it on your Android device but probably didn't give it much thought. If you're looking for the next best thing besides getting a Microsoft subscription, you can always go with Google Sheets. It connects with Drive, and it's compatible with Microsoft Word.
You can share the spreadsheet with others by adding their email address. You can customize the spreadsheet in various ways, such as adding color and text. You can also add borders and change the border style.
5. Table Notes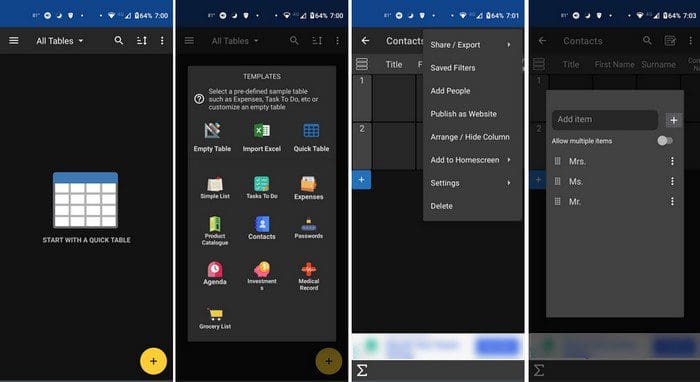 The only type of file you'll find here is spreadsheets. When you first open Table Notes, the app takes you through a tour of how to use the app. You can also choose from what template you want to start off with. You can choose from templates such as:
Empty table
Import Excel
Quick Table
Simple List
Tasks To Do
Expenses
Product Catalogue
Contacts
Passwords
Agenda
Investments
Medical Record
Grocery List
You can do things such as insert rows directly during row filtering. You can use widgets and insert blank rows in the middle of the table. There is also the option of uploading images. With this app, you can use math formulas, and if you want to go Pro, you don't have to deal with a subscription. There is a one-time price tag, and the app is all yours.
Conclusion
As you can see, there are other options for creating spreadsheets. You can go with Google Sheets, the most known company on the list, or with another one. All the apps on the list are free, with the option to buy the Pro version. You can also choose from templates the app offers to save time. If you were already going to create something like it, why not try it? Which app do you think you're going to try first? Share your thoughts in the comments below, and don't forget to share the article with others on social media.