When you boot up your Windows computer, the welcome screen pops up after a few seconds, and then the login screen appears. You then need to enter your password to access your desktop. Some users find the whole boot-up process a bit loo lengthy and prefer to jump straight to the desktop.
How Do I Make Windows Boot Straight to Desktop?
Disable Username and Password Requirements
Press the Windows and R keys to open a new Run window.
Type netplwiz and hit Enter.
Clear the checkbox that says Users must enter a username and password to use this computer.Note: If this option is missing, you will need to login to your Microsoft account and turn off "Passwordless account". This option is under your profile image at the upper right corner of the page > Security > Security dashboard > Advanced Security Options in the Additional security section.
Hit Apply, confirm your password, and hit OK.
Restart your computer and check if you're automatically logged on.
Disable Sign-in Requirements When Away
By the way, you can also tweak your system settings to prevent Windows from asking you for your password when waking up from sleep.
Go to Settings.
Then navigate to Accounts.
Select Sign-in Options.
Scroll down to Additional Settings.
When asked, "If you've been away, when should Windows require you to sign in again" select Never.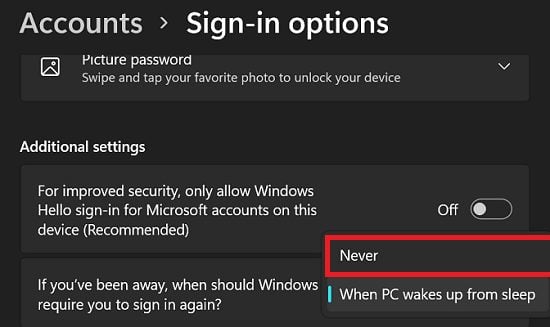 Sometimes, you may need to first instruct Windows not to require you to sign in again if you've been away. Then, you can disable username and password requirements when booting up your machine, as shown above.
Word of Caution
Instruct Windows to skip the login screen and jump straight to the desktop only if you're the only person using that computer. If multiple users have access to the same machine, create a separate password-protected account for each user.
Conclusion
If you want to make Windows boot directly to the desktop, go to account settings and disable the option that says, "Users must enter a username and password to use this computer." Additionally, don't forget to disable the option that requires Windows to ask for your password if you've been away for a while.
Did you manage to tweak your settings and jump straight to your desktop? Let us know in the comments below.