Microsoft's Windows platform is an example of how user experience can be refined and improved with constant effort and iterations. Microsoft is serious about their PC market and Windows plays a crucial role in helping them dominate it.
Their new Windows 10 product offers unparalleled user experience with a plethora of features and functionality. Just like the previous Windows version, Windows 10 also comes with multiple variants. Windows 10 Home is the standard version aimed at a general audience who plans to use the product for personal use.
Pros & Cons of Using Microsoft Windows
MS Windows is still the most common operating system on the Planet. Advantages of using Windows were once measured against using rivaling desktop operating systems, such as MacOS or Linux, but is currently more in danger of being surpassed by Android.
Pros
– Versatile
– Productive
– Secure
– Good Native Apps

Cons
– Bulky
– Resource Heavy
– Developed for keyboard & mouse

You can buy a USB drive with Microsoft Windows 10 Home Edition and join millions of users worldwide on a platform that is considered the industry standard.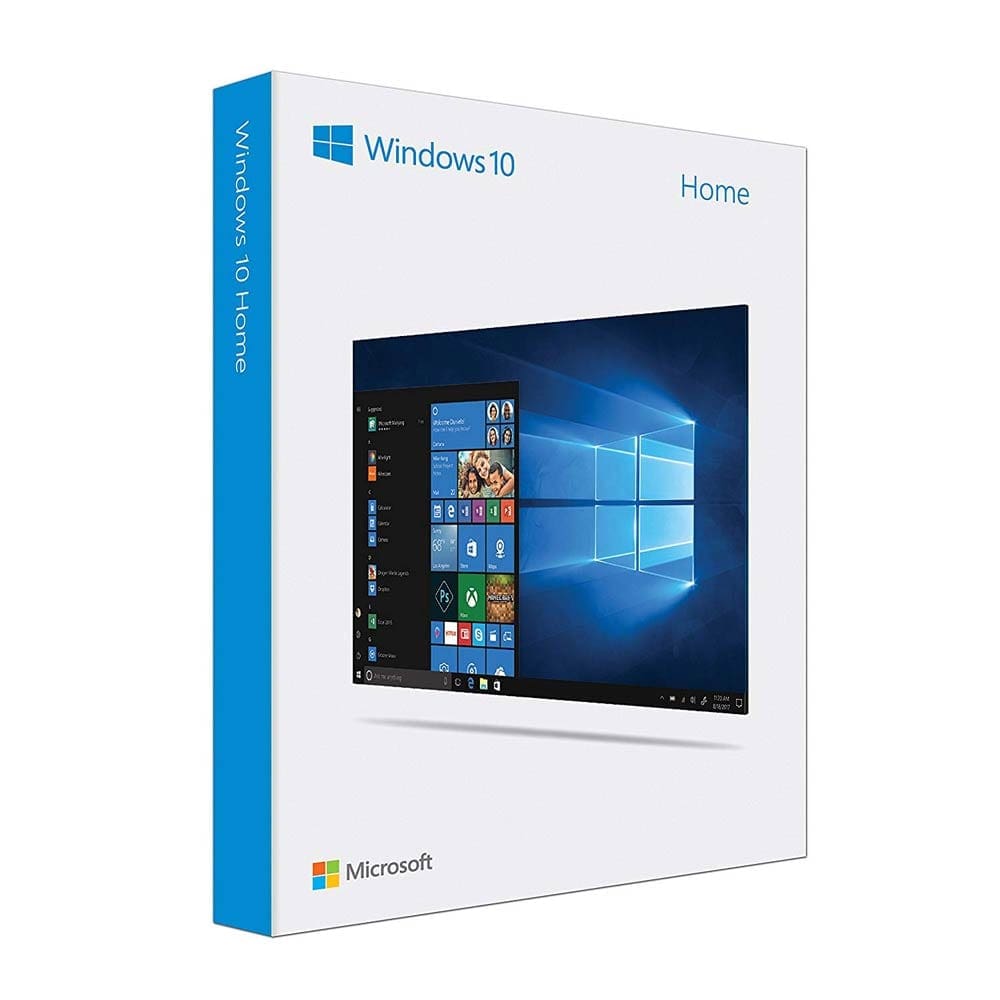 Windows 10 Home Review
For the past decade or so, Windows has pushed every boundary to make itself the ultimate desktop experience. The fact that Windows 10 is the most popular operating system in the world speaks about its accessibility, functionality, and features. With most of the functions carried over from the earlier Windows experience, you will still be able to find something unique and new.
There are three popular Windows 10 versions available. They include Windows 10, Windows 10 Pro, and Windows 10 S. Each of these variants comes in 32-bit and 64-bit versions. There is also an enterprise edition for large organizations.
Installation
Windows 10 Home is easy to install as long as you're able to follow the installation guides correctly. It's easy to access and can be installed from a key or a USB drive or even a DVD drive. You can use Rufus to create your installation media and then use the key (during or after installation) to complete the process. Installing from a USB drive and a DVD drive will also be similar.
Made for Home
Windows 10 Home is designed for the standard at-home user. It lacks advanced features including remote desktop, Hyper-V, Trusted Boot, and so on. This shouldn't be an issue for the majority of home users. Despite it being a more basic product, Microsoft has included many key features for the broad consumer market. The key features that a home user would take advantage of include Outlook, Cortana voice assistant, Microsoft Edge, and OneNote. Moreover, you will also find other Windows' device features within Windows 10 Home including Hello login, Pen sketches, touch displays, and more.
Interface
If you are a veteran Windows users, you will find yourself at home with the Windows 10 interface. It has borrowed heavily from the past Windows versions including faster boot, better notification system, app store, and tablet compatibility. The startup menu has been overhauled and adds its own twist to set itself apart from its previous Windows iterations.
Another key design philosophy behind the Windows 10 interface is the Fluent Design. It is a new design language that offers an animated and translucent interface. Fluent Design also heavily utilizes Acrylic Material that provides a depth appearance and a semi-transparent look. The interface has also been adapted to make it more touch friendly. Also, thanks to Continuum, Windows will automatically detect your hardware and provide an attractive interface to the user.
Night mode(blue-light filter) and Dark Theme have also made their way to Windows 10 Home. Dark mode recently got updated in the October 2018 update where it was added to File Explorer. Both these features help you to work in a dark room or at night.
Microsoft Edge
Windows 10 also comes with its new Microsoft Edge browser. It has been upgraded and now offers a lot of new features that put it on par with rival competitors Google Chrome, Opera, and Firefox. The Edge browser enables you to navigate the web quickly and efficiently. Edge also includes Reading Mode that enables you to read web pages without any distraction.
Authentication and Security
Windows 10 Home provides an excellent authentication system and ensures that the person with proper authentication credentials is the only one who can access the PC. When it comes to security, it does provide basic device encryption, which is turned on by default. However, Windows 10 Home lacks the powerful BitLocker encryption which comes packed in Windows 10 Pro.
Windows 10 Home also comes with the nifty Windows "Hello Sign-in" feature, which is a password-free sign-in that lets you quickly access your Windows securely.
Gaming
When it comes to Gaming, Windows 10 Home has no limitations whatsoever. You will get access to the Xbox app, Xbox controller support, game streaming, game DVR, and so on. All the gaming features are provided within Windows 10 Home, so you are good to go if you are a gamer. Also, it comes with game mode settings where you can optimize your Windows for the best gaming experience.
Work
Windows 10 Home doesn't come with a full office suite. However, you can take advantage of the Office 365 trial which aimed at new users. Office 365 offers cloud work solutions which let you work from any remote device. If you are looking for something more permanent for work, you should get Microsoft Office. Windows 10 Home also comes with virtual desktop support. By using the feature, you can create a virtual desktop and enjoy unlimited desktop space!
Cortana
Cortana is Microsoft's digital assistant that can help you operate Windows efficiently by voice command. It lets you automate simple tasks such as setting up a reminder and doing a lot of other tricky things such as asking weather and news. You can even manage your Google Calendar with Cortana. This feature allows you to gain some of the advantages you'd get with Alexa or Siri, but it's linked with your Windows 10 PC.
Regular Updates
The Microsoft team also releases regular updates to Windows. Their last major update was the October 2018 update where they introduced new features such as the "Your Phone" app, Clipboard History, Sync, File Explorer, Dark Theme, Swift Key, Search Previews in the Start Menu, New Screenshot Utility, HDR support, and much more.
Final Verdict
Windows 10 Home offers more than enough for a home user who wants to use his PC for basic tasks, multimedia, and gaming. The price of Windows 10 Home ranges from $79 to $150 depending on the version you pick. It is easy to install and also gets regular updates throughout the year.