It is well known that the app WhatsApp is one of the most used communication platforms. The popularity it has garnered since its creation is impressive.  It was developed in 2009, and immediately upon introduction, it had approximately 450 million users worldwide.
Its simplicity is what has made it the favorite of many. With WhatsApp, there are no limitations to what media you can send. It allows the transferring of images, videos, music, documents, and other information. You can make voice calls and video calls smoothly to anyone across the globe.
There are no charges to use WhatsApp as the video and voice call all use your internet connection. It is free, making it one of the most used messaging apps in the world. WhatsApp helps you economize because, on a normal basis, you would need to pay for SMS and video calls.
However, with WhatsApp, you can do all these things with no cost, just your internet subscription.
Note: You will require a strong and consistent internet connection to makes smooth voice and video calls without any break in connection or lagging.
Pros & Cons of Using WhatsApp
WhatsApp is one of the most popular chat apps in the world today. But, as is the case with all apps, WhatsApp might not be the best choice for everyone. If your chatting depends on a virtual assistant or large file-sharing, you would be better going with Google Allo or Facebook Messanger.
Also, because WhatsApp is P2P encrypted, you can't "unsend" messages, which may be tricky for people who tend to lash out.
Pros
– Quick
– Easy
– Lightweight
– P2P Encrypted
– Lots of Options
– Support for Siri

Cons
– Needs a Contact Number
– Calling Limitation
– No Face Filters
– No Virtual Assistant

If you want to know more about the possibilities of WhatsApp you can get a Complete Guide from Amazon and master all of the tips and tricks of texting for free.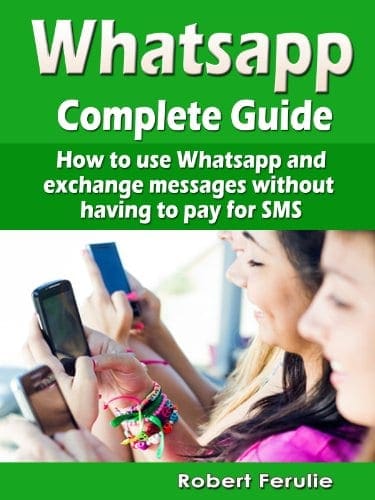 Is it safe to use WhatsApp?
It is 100% safe to use WhatsApp. Your messages and files are all secured, and it encrypts the data sent between users. This extra layer of security will protect your WhatsApp messages from being hacked by a third party.
WhatsApp doesn't just encrypt messages like other messaging apps that are between you and them; Whatsapp does end-to-end encryption to ensure it's just between you and whoever you are in communication with.
You don't have to worry about any of your personal information being exposed at any point. All private information stays between you and your contact. WhatsApp makes use of a security protocol that was established by Open Whisper System, this is a company that has its secure messaging app signal that is for both IOS and Android.
What is GIF?
Graphics Interchange Format, abbreviated to GIF, are extremely short video clips that do not have sound. They are mostly used to express reactions on the internet.
How to use it in WhatsApp
Aside from WhatsApp, there are many ways to use GIFs; you can take them from ones you have saved on your Smartphone.  If you want to use it on WhatsApp, just follow these simple steps;
Locate your WhatsApp on your phone screen, and open it
Select a recipient or an already existing chat you want to send it to
Then you press the emoticon face located on the left side of your keyboard
After that, you will see at the bottom of the emojis the "GIF" symbol located in the middle.
Click on it and send the preferred one to your recipient.