Configuring a VPN on your phone is a great way to ensure that your browsing activity remains private from your mobile data provider. At some point though, you will likely want to disable your VPN. There are many reasons to want to turn a VPN off. For example, you could be switching to a different VPN provider or connecting to your home network. There are a number of ways to turn off a VPN on your iPhone, this guide will walk you through the options.
From the Settings
The easiest way to disconnect from a VPN is in the Settings app. Directly underneath the "Personal Hotspot" settings near the top of the Settings app, you'll find a "VPN" slider, tap it once to disable, or enable your default VPN.
Tip: The process of disabling a VPN will generally happen instantly, however, connecting to one may take some time. Make sure your connection to the VPN has completed before you start browsing, as you could interrupt the process and remove your protection otherwise. We recommend waiting a minute or two, just to be sure.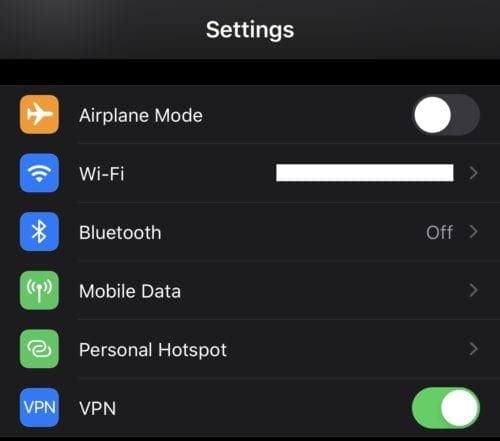 There is a second way to disconnect from a VPN in the Settings app, under Settings > General > VPN. To disconnect from your VPN, tap the "Status" slider at the top of the page, to set it to the "Off" position.
Tip: These are the general VPN settings; you can see a list of profiles here. If you have multiple VPNs installed on your phone, you can also choose which profile you want to be the default. The default VPN can be activated by tapping the above "Status" slider. To activate a non-default VPN, you'll have to open the VPN app, or temporarily change the default.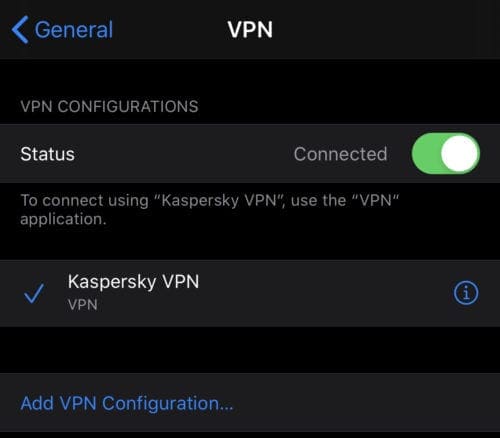 From within an app
The final way to turn off a VPN on your iPhone is to do so from within the VPN app. Each VPN app will look different, so the instructions may vary depending on which app you use. It's also possible that your VPN app doesn't include a button to connect and disconnect from its VPN.
Open your VPN app, then locate its button to connect and disconnect from the VPN. The button will likely be on the home page of the app or otherwise be very easily accessible as it is a key feature. Tap the button once you've found it to disconnect from the VPN. If you receive a confirmation prompt, confirm that you want to disconnect from the VPN.