Telegram Groups are a great way to keep in touch with a specific group of friends or family members. You get to see the funny things others post and the silly things they say to each other. But, if you don't change up the right security settings, anyone can add you to a group without your permission.
How to Strengthen Telegram Group Security
Unless you want your phone to practically explode with group notifications, it's best to limit who can add you to a group. Thay way, you only get group notifications for groups you actually care about.
To stop anyone from adding you to a Telegram group without asking you first, go to:
Settings (tap on the three-lined menu)
Privacy and Security
Groups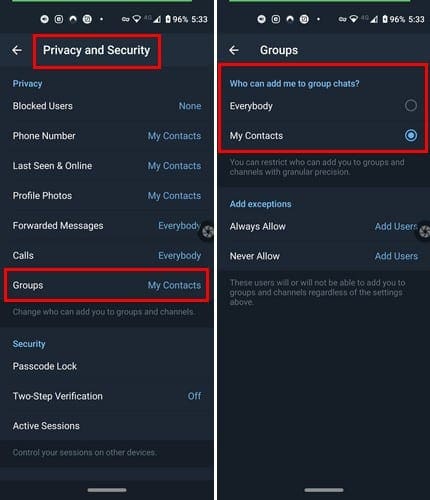 Once you're in the groups' section, you can choose to have only your contacts add you to groups. If you're not generally added to groups, but you have that one friend that creates a group for just about anything, you can make exceptions.
Below, you'll see the exceptions section. If you decided that only your contacts can add you to groups, you want to blacklist that one friend. To do that, tap on the Never allow option and choose that contact. When you go back to the group's section, you'll see how many users you've added to the never allow list.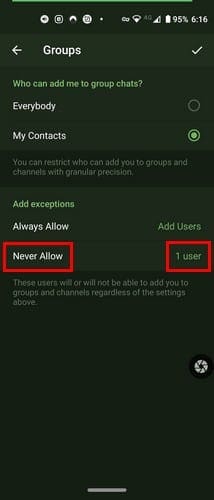 There's also an always allow option for those contacts you trust that won't add you to a million groups. It would be better if there was an option where no one would add to a group. Hopefully, Telegram will add that option soon. If you didn't make the changes soon enough and someone added you to a group, you can always leave the Telegram group.
Final Thoughts
Some people may add others without asking, thinking that you can always leave if they don't like it. But if you like to be asked first, there's a way to make that happen; since they can't add you, they'll be forced to ask if they really want to add you. How do you feel about groups?