Many Microsoft Teams users got this error message when they tried to upload a new file to the chat: 'A File with the Same Name Already Exists.'
Every file name should be unique if you want to avoid this error in the first place.
Microsoft Teams the File Already Exists
This error may prevent you from uploading the same file to two different chat groups. This happens because the two files get stored in the same location.
Teams send all the files you received via chat conversations to the same folder. This is how the program works by design.
Check If the Two Files Are One and the Same
This alerts usually occurs when users shared two files with the same name. Maybe you uploaded one of the files from your computer. And you shared the other file from OneDrive or another online storage service.
You can avoid getting this error by using a single source to upload your files.
Our suggestion is to use OneDrive to share files on Microsoft Teams. By doing that, you'll actually share the file stored in your OneDrive folder. So, you won't duplicate it anywhere else. You'll use a single source for your files with all the people enrolled in that chat group. Of course, this also means giving them access to the respective file.
Rename the File
Another workaround is to simply rename the file. Check if the two files are one and the same. If this is the case, you may not need to share the second file after all.
When this error pops up, Teams gives you three options.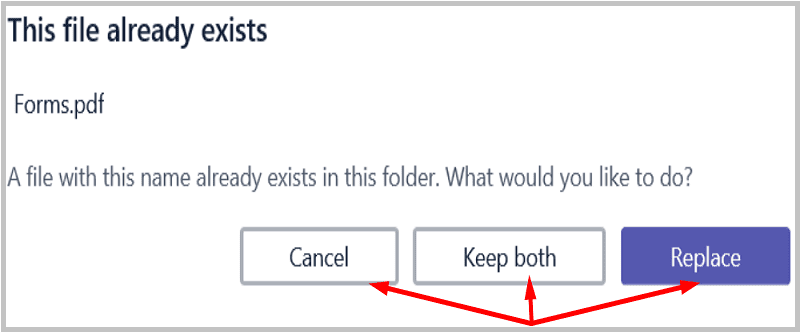 Cancel. You can simply cancel the upload and rename your file. Change the file name, and the error should be gone.
Keep both. Yes, you'll have two files with the same file name. This may cause a bit of confusion among users, especially if multiple users work on that file. Try to avoid confusing file names.
Replace. If you select this option, you'll replace the first file with the second one. In other words, the new file will override the existing file version.
There are also situations when Teams only gives you the option to replace the file.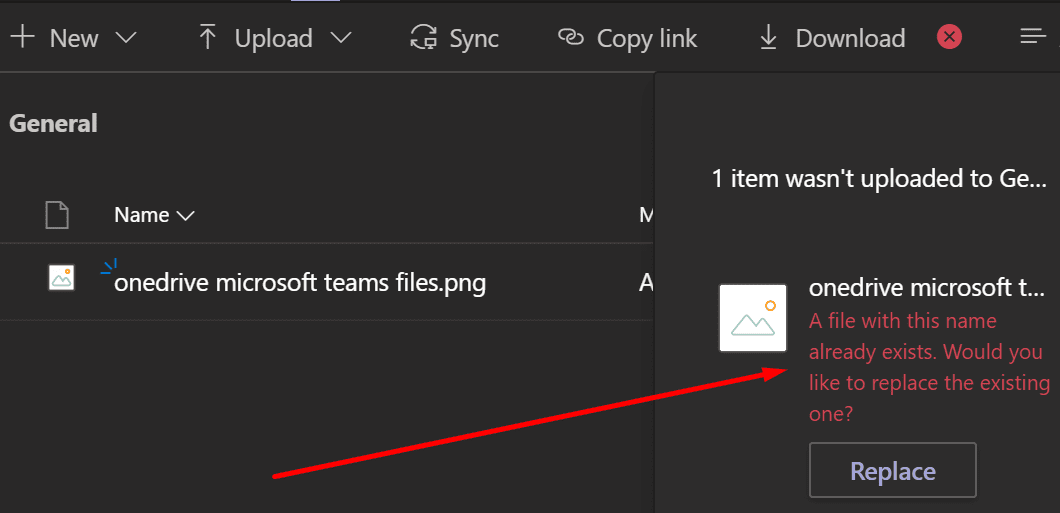 We hope this guide brought you some clarity as to why Microsoft Teams says the file you're trying to upload already exists.