VLC Media Player has been a popular choice for several years now. It is open-source, free to use and works across every platform and operating system you can think of. The playback quality is actually quite astounding and it will play virtually every type of file you can imagine.
VLC offers you the most comprehensive set of features out there. Being a free and simple-to-use program, you definitely cannot beat that! It allows you to synchronize your subtitles, has multiple video and audio features and even plays DVDs! You can even add any one of a large number of skins (backgrounds) to your VLC playing experience… just not on Mac OS, unfortunately. Windows and Linux users are in luck, though, and can change the look and feel of VLC at any time.
With all of the options VLC Player has, it's no wonder so many of us choose to play our YouTube videos here instead of on the native website. Doing so is super simple.

How to Play a YouTube Video in VLC Media Player
First, head to YouTube and choose the video you want to stream over on VLC. Just under the video, click the "Share" button, and then click "Copy."This will highlight and save the URL of the video to your clipboard.
Next, open up VLC and click "Media" and then "Open Network Stream." You will then be asked to enter a URL to a video. Note that this video source does not have to be from YouTube… it can be from any video source of your choosing.
Paste your copied URL in the box provided, and click "Play." Meatloaf will now begin Paradising by the Dashboard Light in the VLC Player.
If you happen to have a lot of music already on your computer, go ahead and click "Media" and then "Open Multiple Files." Choose all of the music you would like to add to VLC Player as a playlist that you can save, shuffle or skip through and enjoy in many ways – as often as you wish.
Changing the Quality of VLC Videos
If you wish to change the quality or type of playback of your video, click on "Tools" and then "Preferences." At the very bottom-left of the pop-up window, click the circle next to "All."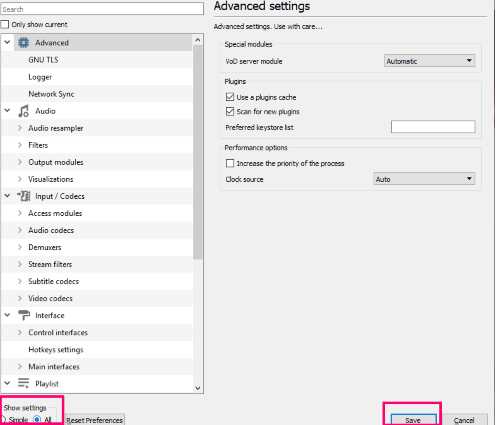 In the next window to open, find "Input/Codecs" about halfway down the menu on the left side and click on it.
In the middle of the right-hand screen, find "Video Resolution" and click the drop-down arrow in the box next to it. Choose your preferred settings from there. Be sure to click "Save" when you make any changes.
There are a ton of other settings you can play around with and get to know, so that your playback experience is always the one YOU want.
Change the Playback Speed in VLC Video Player
VLC has one more cool built-in feature I want to tell you about. What makes it awesome is the fact that YouTube itself does NOT allow you to do this natively. Let's say you are watching or listening to a podcast or TED Talk in the background while you are working. If you want, you can speed the video up like 1.2 times. The video will then play just a tad faster, but still allow you to listen and comprehend what is being said. You can adjust it to the speed you are comfortable listening to, and save yourself a lot of time.
To adjust the speed, right-click on the taskbar at the bottom of the player, and then choose "Playback" and then "Speed." Play around with the various options. Additionally, you can access this same feature by clicking "Playback" at the top of the video player and then choosing "Speed."
I have been using VLC Video Player for several years now, and absolutely love it. Have you tried it? How often do you use it? If this is going to be your first time, what other questions do you have that we can help answer?
Happy video playing!