When playing games on Steam you may occasionally want to use a web browser. Perhaps you want to check a guide or purchase some DLC for your game. You could tab out into your normal browser, but some games don't play well with losing focus and can crash.
To help with this, Steam has a web browser built into its in-game overlay that allows you to switch to a browser without ever having to leave your game. Whenever you first open the browser will default to a home page. By default, Google is the home page which can be helpful if you generally want to search for something. If, however, you're likely to want to browse for something specific you could change your home page to save you some time. For example, you could set your homepage to be the Steam Store web page.
How to change the homepage for the in-game overlay browser
To configure the homepage for Steam's in-game browser, click on "Steam" in the top-left corner of the main Steam window, then click "Settings" in the drop-down menu.
Once in Steam's settings, switch to the "Web Browser" tab. You can enter your custom homepage URL in the "Web browser home page" box.
Tip: Remember to start the URL with "https://".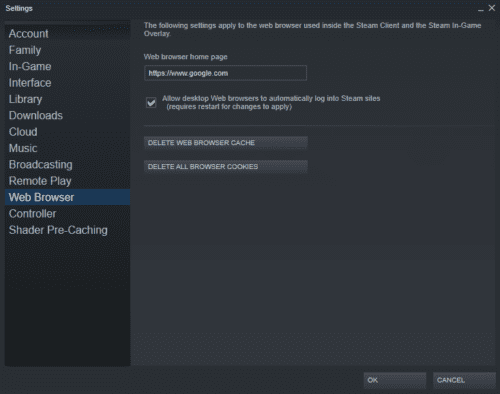 If you're using a Steam website as your homepage, or if you're likely to ever browse to it, you should also ensure that "Allow desktop Web browsers to automatically log into Steam sites" is enabled. This will automatically log you into your Steam account, allowing you to add items to your wishlist or purchase DLC more easily.
Note: This setting requires Steam to restart to take effect.