The key part of any Slack workspace is the people in it. Without members, there's no one to post messages and communicate with. In many corporate environments, employees will be automatically added as part of the onboarding account creation process. In both corporate and community workspaces, though, it may be necessary to specifically invite people to join the workspace.
How to Someone to Your Workplace on Slack
To invite someone to the workspace, you need to click on the workspace name at the top of the sidebar and then click on "Invite people to <workspace name>" in the dropdown menu.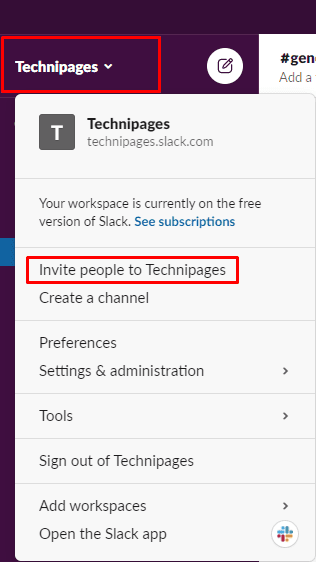 In the invitation popup, you can enter a list of email addresses for people you want to invite to the workspace by entering their email addresses in the "To" textbox. This is ideal if you have a written list of email addresses that you want to add to the workspace.
If you want to invite several accounts that you have saved as contacts in your Google account, it may be easier to click "Add from GSuite." This will require you to link your Google account to Slack and then select the contacts you wish to add to the workspace. To send the invitation email to the listed users, click "Send."
Alternatively, you can copy an invitation link by clicking "Copy invite link" in the bottom-left corner. By default, all invitation links are valid for thirty days and can be used to allow up to two-thousand people to join the workspace before the link expires. You can adjust the time period for which a link is valid to seven days or one day using the "Expires end" dropdown box. To save the changes you've made to the link, be sure to click "Save"; otherwise, the changes you have made will be forgotten.
Tip: By default, you also get a Slackbot notification every time someone joins the workspace using the link. You can disable this notification by unticking the checkbox labeled "Send me a Slackbot message each time someone joins using this link."
If you decide that you want to disable the currently valid invitation link before it expires, you can click "Deactivate link.
Invitation Link Settings
Inviting people to your Slack workspace is key to having a running community. You should always be aware that users may share invitation links further than you intended them to be as they are not single-use. If you follow the steps in this guide, you will invite people to your workspace.